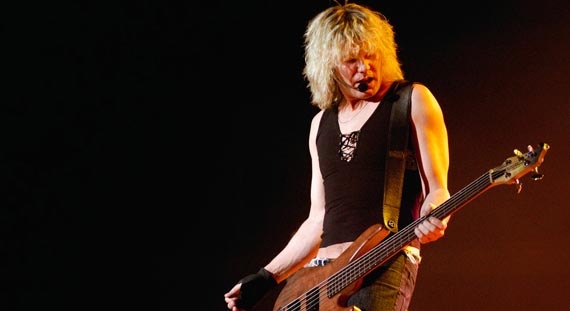 TDC Photography | Shutterstock
Def Leppard Line Up Las Vegas Residency for March
Def Leppard will undertake a nine-evening residency in Las Vegas to celebrate their legendary 1987 album, Hysteria.
Appropriately titled Viva Hysteria!, the residency will kick off on March 22, 2013 at The Joint at Las Vegas' Hard Rock Hotel and Casino" – a date that coincides with the first weekend of the NCAA's March Madness. For each performance, the group will play Hysteria in its entirety, along with other hits from throughout its career.
"We're very happy to be part of what I call the first wave of rockers to take Vegas back from the lounge singers – Wayne Newton and his type," said Def Leppard frontman Joe Elliot, according to USA Today. Guns N' Roses is currently in the midst of a residency at the same venue.
Hysteria includes some of the group's best known hits, including "Pour Some Sugar on Me," "Love Bites" and "Animal," but Elliott says he is looking forward to playing some of the lesser known album tracks from the record, as well.
"Things like 'Run Riot,' 'Don't Shoot Shotgun' and 'Love and Affection' got left by the wayside because of the popularity of other songs that, to be frank, if you don't play them live, you don't get out of the building alive," Elliott continued. "The oddest thing is going to be doing 'Sugar' fifth. In many respects, it's like the Troggs opening with 'Wild Thing.'"
Elliott also said that this residency could be good for the band to work together, possibly resulting in new material.
"The downtime will not go to waste," he said. "Two of the guys in the band live in Dublin and the other three live in California. This is a great opportunity for a band that has decided to live all over the world to be in one room at one time, to look each other in the eyes and come up with ideas."