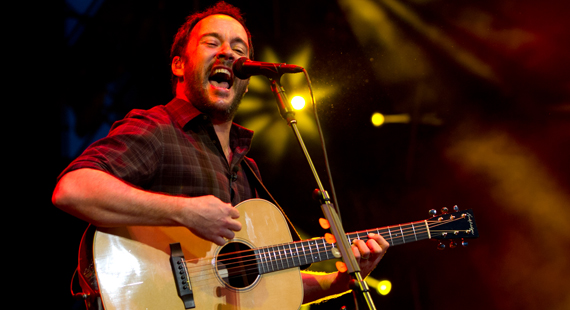 Mark Runyon | ConcertTour.org
Dave Matthews, Tim Reynolds Book Two Nights at New Orlean's Saenger Theatre
Old friends and regular-collaborators Dave Matthews and Tim Reynolds are set to play two acoustic shows at the Saenger Theatre in New Orleans on January 15th and 16th 2014 together.
Each imaginatively-titled individual evening with Dave and Tim, "An Evening With Dave Matthews & Tim Reynolds" are set to be presented by The Dreaming Tree wines, a collaboration between Dave Matthews and winemaker Steve Reeder, so we imagine there will be wine.
Reynolds and Matthews' bromance has been blossoming ever since the pair met in Charlottesville, Virginia. Back then, Reynolds led a successful band called TR3 and Matthews was a humble bartender by night, and aspiring musician by day (or whichever way his shifts worked out.) Reynolds convinced Matthews to start his own band, who, it's fair to say, were quickly massive. (Apparently, between 2000-2010, the Dave Matthews Band sold more tickets and earned more money than any other act in North America!!!) As of 1999, the pair have released three live albums together, with Reynolds contributing to a number of Dave Matthews Band recordings, and touring as a DMB member.
The duo also recently performed at Farm Aid 2013 in Saratoga Springs, New York. The January shows, however, will be the pair's first acoustic duo shows in New Orleans since a 1997 concert in the now-closed State Palace Theater, though the pair did share a stage as part of the Dave Matthews Band's performance at the 2013 New Orleans Jazz Fest.
If statements on the pairs' respective websites are anything to go by, the Saenger Theater sounds pretty cool too:
"The New Orleans movie palace, built in 1927 in the Italian Renaissance style, was once the flagship of the Saenger Theatre chain. Destroyed by Hurricane Katrina in 2005, the Saenger has undergone an extensive restoration and will soon open as a performing arts center."