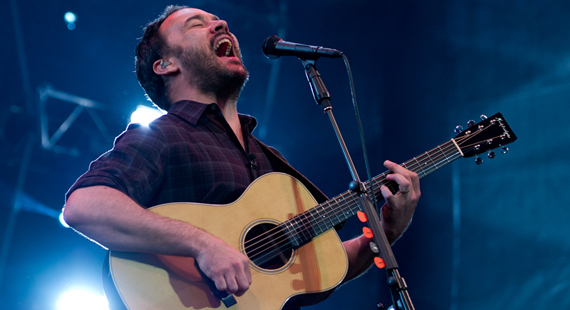 Mark Runyon | ConcertTour.org
Dave Matthews Preps New Album, Plays Acoustic Show with Tim Reynolds
Most artists go on tour after they release an album, but the Dave Matthews Band will release their next album two days following the end of their current tour, it was announced recently.
Away From The World will be the group's eighth studio album, and is set to be released September 11. The album is produced by Steve Lillywhite, who produced the band's first three albums: Under the Table and Dreaming, Crash and Before These Crowded Streets. Those records, all recorded in the 1990s, helped make the band the worldwide success they are today.
The new album will be the first the group has released since 2009's Big Whiskey and the GrooGrux King. That record went on to sell 1.2 million copies and in 2010 was nominated for Album of the Year at the Grammy Awards. It ended up losing the honor to Taylor Swift's Fearless.
Though the Dave Matthews Band Tour will run through early September, Matthews has sporadically been announcing acoustic tour dates throughout the year with his long time collaborator, Tim Reynolds.
The duo have announced a show on July 15 in Canandaigua, N.Y. as well as an appearance at the Life is Good Festival. That event will take place September 22-23 in Canton, Mass., and serves as a fundraiser to help kids overcome poverty, violence and illness.
Matthews and Reynolds have worked together since before the Dave Matthews Band was formed in the early 1990s, and Reynolds became an official member of the band in 2008. Reynolds is perhaps best known to more casual Dave Matthews fans from the 1999 live acoustic album Live at Luther College. With the popularity of the Dave Matthews Band, that record debuted at number two on the Billboard 200 albums chart at the time, and has gone on to sell more than one million copies.