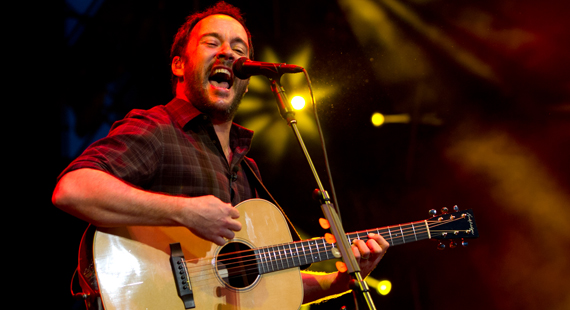 Mark Runyon | ConcertTour.org
Dave Matthews Grabs Tim Reynolds for Pair of Northeast Concert Dates
The relationship between Dave Matthews and guitarist Tim Reynolds goes back to before the beginnings of the Dave Matthews Band in 1991, though Reynolds name is mostly associated with Matthews to casual fans through the 1999 acoustic collaboration Live at Luther College. That album featured only Matthews and Reynolds doing a collection of acoustic versions of Dave Matthews' songs along with one Reynolds composition.
This November, the two guitarists will revive their acoustic set for a pair of shows in New York and Connecticut. The New York City show is a charity concert that will be held at the United Palace Theatre on November 18. Attendees will be able to go to Matthews website and donate the full value of their ticket to the charity of their choice. The Connecticut show will take place the following night at the Oakdale Theatre in Wallingford, Conn.
Matthews was a bartender at "Millers" club in Charlottesville, Va. in the early 1990s when he met and befriended Reynolds, who often played the club with his instrumental band TR3 (Tim Reynolds 3). Reynolds encouraged the shy Matthews to put together a band to perform the songs he had written. Though Reynolds declined the offer to join the band full-time, he often toured with the band and performed acoustic shows with Matthews. In 2008, he joined the Dave Matthews band as a full-time touring lead guitarist.
Live at Luther College debuted at number two on the Billboard 200 album chart and has since been certified platinum. The show was recorded in 1996, and featured many songs from the album Crash, which wasn't yet available at the time of the performance. With the success of Crash, the acoustic album became a success and introduced many Dave Matthews fans to Tim Reynolds, who often kept his name out of the DMB spotlight.
Since Live at Luther College, the pair has released two more official live albums as a duo, Live at Radio City in 2007, and Live in Las Vegas in 2010.