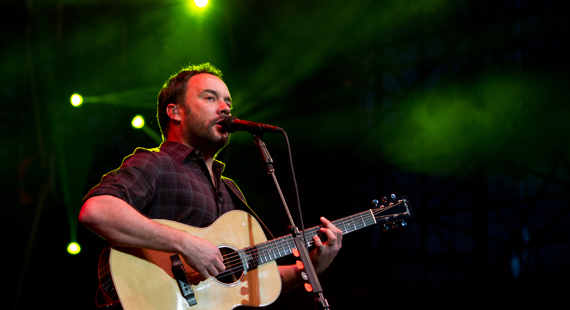 Mark Runyon | ConcertTour.org
Dave Matthews Band Rolls Out 2014 Summer Tour Dates
Dave Matthews Band have just announced another mammoth tour, stretching them into the fall of 2014.
The extensive tour will see the legendary band cover 42 cities, kicking off on May 16th at the Cynthia Woods Mitchell Pavilion in Woodlands, Texas. Entitled "A Very Special Evening with Dave Matthews Band," each night will boast not one but two sets from DMB, ranging from full-band performances to more scaled-down minimal numbers.
After that the tour will see the band make stops in Dallas, Atlanta, Toronto, Chicago, Tampa, West Palm Beach, and Virginia Beach, among other places, before wrapping up on September 6th in Irvine, California.
"I was talking to (drummer) Carter (Beauford) about how much I still like just sitting around playing music together," Matthews says via a press release.
"It's how we started – in the basements of Carter's and my mom's houses. Our shows are loose, but we started thinking that maybe this summer we should make them looser and bring some of that feeling to the stage. It seems like the opposite of a safe plan, so why not?"
 "Everyone was really psyched about the idea, so we've been busy figuring out how to turn it into the best possible experience for our fans," adds Beauford.
The band is currently expected to release a new studio album in the back half of 2014, produced by Rob Cavallo, who worked on their 2009 effort Big Whiskey & the GrooGrux King.
When their last studio full length, 2012′s Away From The World, debuted at no. 1 on the Billboard 200, the Dave Matthews Band became the first group to have six consecutive albums start at No. 1.