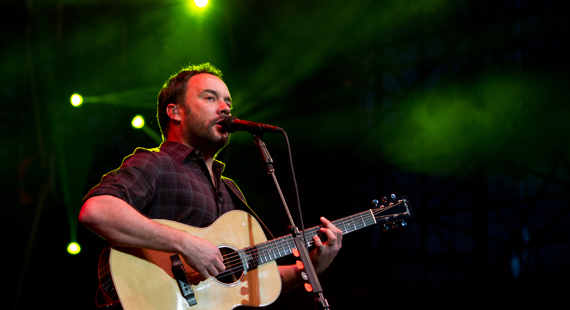 Mark Runyon | ConcertTour.org
Dave Matthews Band Forgoes Touring in 2011
The Dave Matthews Band, after almost non-stop touring for two decades, has decided finally to take a break from the road, at least for a year. The band is well known for having long summer treks, and for many of their diehard fans it has become a yearly tradition. The Dave Matthews Band has announced they will not be touring in 2011.
A joint statement posted on the band's official website states that we feel lucky our tours have been a part of lots of people lives. We want everybody to have as much notice of this as we possibly could give. We are very excited about making this summer's tour one of our very best ever. We look forward in 2012 to return back to the road.
The announcement from the band was made only two weeks before they kick off their 2010 schedule. On May 28-29 their trek of 51 days will start in Hartford, CT at Comcast Theatre and wrap up in St. Paul, MN at Xcel Energy Center on September 15.
Pollstar at the beginning of the year named the Dave Matthews Band as the past decade's No. 1 touring performer. According to Pollstar, from 2000 through 2009, the band had $11.6 million in ticket sales and generated $529 million.
Billboard Boxscore also estimated that during that 10 year span that the total draw for the Dave Matthews Band was $505 million, with $11.2 million in ticket sales not including festival appearances.
Although the concerts for the Dave Matthews Band do draw consistent audiences every year, the ticket sales for 2010, in comparison to prior years, have been more modest. The band is normally a fixture on the exclusive event rankings for Ticket News. However, they disappeared quickly from the chart in only two weeks. For the week that ended February 28 the band debuted as the overall No. 1 ticket event, but then for the week that ended March 7 they dropped all the way down to No. 11. Since then ticket sales in 2010 haven't rebounded enough to push the band back to the Top 20.
For several months in 2009, Dave Matthews band tickets were nearly a weekly occurrence in the ranks. Dave Matthews and band started to tour early in 2009 with their spring tour leg, followed up with a full tour that summer featuring two Fenway Park concerts in Boston.
Starting in February, tickets went on sale to the public for their upcoming tour. Only four concerts since that time have sold out. Based on last year's statement, by February 2009 the band had that many concerts out for their spring concerts two months ahead of time.