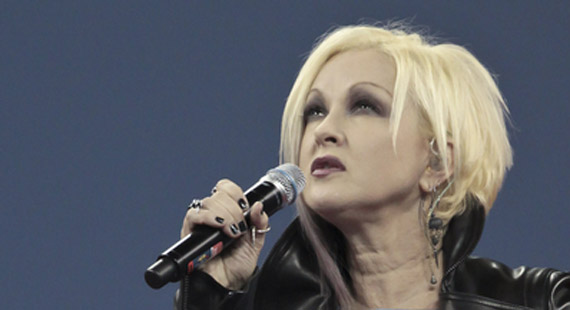 lev radin / Shutterstock
Cyndi Lauper Adds 22-Dates to Fall Tour
Cyndi Lauper's just added a string of 22 dates to her fall tour.
The She's So Unusual tour is in celebration of Lauper's 1983 debut of the same name's 30th anniversary, and features Lauper performing the album's tracklisting in its entirety, including mega-hits "Girls Just Want to Have Fun," "Time After Time," "She Bop," "Money Changes Everything," and "All Through the Night."
The 22-date tour sequel kicks off on October 18th in Englewood and sees the 80s popstar travel up and down the East coast, round Canada, across the South and back to the East, with the whole thing wrapping up in Ridgefield, Connecticut on November 16th.
Certain concerts will feature support from special guests, Hunter Valentine.
Cyndi Lauper's been keeping herself busy recently, having  won a Tony award for composition of music for Broadway musical Kinky Boots and putting together a successful autobiography, Cyndi Lauper: A Memoir. It was on The New York Times bestselling list. Yes, it was.
She also starred in documentary mini-series "Cyndi Lauper: Still So Unusual."
Lauper told The Weekender that the She's So Unusual tour was a thank you to fans, and a celebration of her influential debut, which, at the time, earned Lauper the Grammy award for best new artist:
"When I realized it's also the anniversary of the album that started my solo career, I knew it was the perfect time to thank my fans for sticking with me through it all," Lauper said. "I'm so excited to perform 'She's So Unusual' from beginning to end, song by song, and I can't wait to see everyone."
The shows are, of course, expected to be occupied by girls who just want to have fun, among other people of other genders and other partying-dispositions.