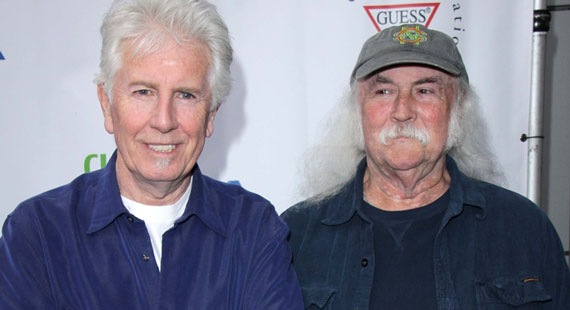 Helga Esteb | Shutterstock
Crosby, Stills & Nash Tour Solo and Together in 2014
Three quarters of supergroup Crosby, Stills, Nash & Young (to be more precise, the first three) are due to embark on a tour together next year.
The folk-rock trio will be playing shows in a variety of US cities in the Midwest and Southeast throughout March, kicking off on March 4th in Richmond, Virginia, before heading out to Des Moines, Indianapolis, Nashville, and Atlanta, among others, and wrapping up on March 24th at Durham, North Carolina's Performing arts center.
As well as each sporting a decent head of hair each, David Crosby, Stephen Stills and Graham Nash have remained busy throughout the year with various side projects. Crosby will be releasing a new solo album titled CROZ on January 27th and will support it with a month-long tour running from late January to late February. Stills, meanwhile, recently formed a blues-rock supergroup called The Rides that released an album titled Can't Get Enough this August and played a bunch of shows earlier in 2013. Lastly, Nash published a memoir titled "Wild Tales" in September and promoted it with his own solo dates, which took place between September and last month.
The upcoming shows will feature the band playing plenty of their classic songs, as well as introducing some brand-new material. Crosby, Stills & Nash will also donate $1 for every ticket sold for the upcoming concerts to charity, though I have no idea which charity, so if you're picky about these things or suspect CSN are, in some way, morally dubious, you might wanna do your research.
According to a press release on the trio's website, "David Crosby, Stephen Stills, and Graham Nash have each been inducted into the Rock and Roll Hall of Fame two times—with Crosby, Stills & Nash, and a second time with The Byrds, Buffalo Springfield, and The Hollies, respectively. They are also in the Songwriter's Hall of Fame, honored both for CSN as a group, and as individual solo artists."
Ladies and gentlemen – I give you our supergroup champions. May they continue to form supergroups.