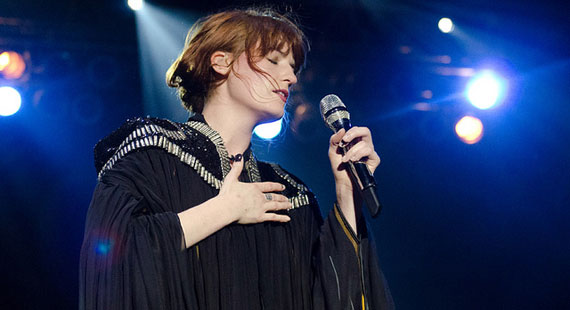 Mark Runyon | ConcertTour.org
Concert Review: Florence and the Machine at Beale Street Festival in Memphis
The 36th Annual Memphis in May Beale Street Music Festival kicked off in stellar fashion on Friday, with the likes of Three Six Mafia, Megadeth, and My Morning Jacket performing. Tom Lee Park is an ideal setting for a festival, grazing Beale Street at its most northern point and stretching lazily down the Mississippi River before reaching Georgia Avenue. Though the summer heat and humidity have already arrived here in Memphis, the breeze off the mighty Mississippi provided a welcome reprieve for music fans young and old. As night fell, the temperature dropped and the musical ante was upped as Florence brought "The Machine" in all its unfettered glory to the Bud Light Stage.
Florence was beautiful as she hit the stage, red locks pulled away from her face, draped in a black chiffon cape, embroidered in gold and white. As she ran up and down the stage and danced by the microphone, the cape flowed and billowed in the wind. It was a very ethereal effect that was a small detail, but made a big impact in the overall show.
She launched the set with the bombastic "Only If For a Night." For those familiar with Florence + the Machine's MTV Unplugged release, the fully plugged in live show is much more epic and intricate, much as you would expect from her two studio albums. Florence's stage presence commands you, leaving you transfixed on her, and her alone. She's fascinating to watch in her body movements, and sheer intensity in which she belts out her notes, and at times you forget she was actually sharing the stage with her band mates.
As one would expect, her voice was the true star of the show. Her register slowly crept up to a stirring crescendo in songs like the haunting "What the Water Gave Me." She also knew when to dial it back to quietly simmer in the moment like on "Never Let Me Go." Like the late Jeff Buckley, few vocalists let their voice stand alone against the musical tide. Florence is one of these few, and at just twenty-five, it's amazing to think of the potential still wrapped up within her vocal chords.
To be fair it wasn't always a flawless effort. Some of her vocal transitions faltered as she tried to jump from one musical point to the next. It wasn't a pervasive issue, but more subtle missteps along the way. I would imagine when you are piercing the sky with your voice, it can be hard to dial it back to reality.
She took time away from her vocal styling to interact with the audience. She wanted all the ladies up on their men's shoulders during "Rabbit Heart" and she started a synchronized hopping experiment during "Dog Days are Over." I have to say it was a bit disappointing that the audience thinned out considerably after she wrapped her big radio single. They missed a stirring "No Light No Light" and downbeat "Never Let Me Go"
Florence is nothing short of a star in all its blinding glory. Anyone who doubted her talent after her ground breaking debut album "Lungs," should feel foolish after her strong return on "Ceremonials." She puts on a fantastic live show that doesn't slow down for anyone. If you have the means I highly recommend checking out Florence + the Machine the next time they pass through your city. It is a stunning spectacle.
Keep checking in with us over the weekend and Monday as we continue our coverage of the Beale Street Music Festival.
Florence + the Machine Beale Street Setlist
Only If For a Night
What the Water Gave Me
Cosmic Love
Rabbit Heart
Spectrum
Lover to Lover
Hurricane Drunk
Shake It Out
Dog Days are Over
Never Let Me Go
No Light No Light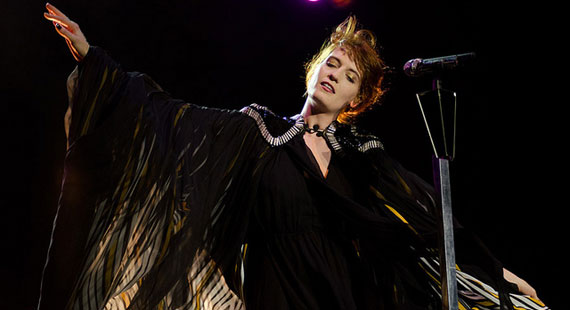 Mark Runyon | ConcertTour.org