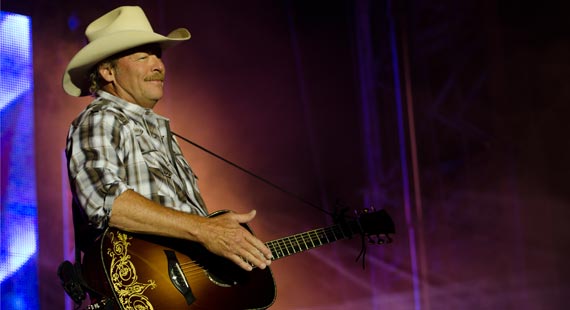 Mark Runyon | ConcertTour.org
Concert Review: Alan Jackson at BamaJam in Enterprise
As dusk settled in over BamaJam Farms in Enterprise, Alabama, country music icon Alan Jackson took to the main stage in front of an impressive Friday night crowd. Thankfully, a hot, dry, afternoon made Thursday's mud and chaos a distant memory. The BamaJam teams seemed much more prepared and informed on Friday, and the crowd was prepared for a "Good Time" when Jackson lit into his aptly named first tune.
Jackson himself appeared to be having a really good time, his thirteenth studio album, Thirty Miles West, was released on Tuesday, debuting at No. 1 on the Country Album Charts, knocking Carrie Underwood out of her favorite spot. Looking relaxed, and standing tall in his blue jeans, cowboy hat, with a million dollar grin on his face, he commands the stage. Remaining front and center, and strumming the guitar the entire show; his melodies, lyrics, and pitch perfect voice don't require any other special effects.
After rousing the crowd with "Good Time," he moved on to his 1994 hit "Livin' on Love." The message might be the same as The Beatles' "All You Need is Love," but a middle American twist makes this a perfect hymn for a summer festival on an Alabama farm.
Jackson led into the beautifully sentimental "Daddy Let Me Drive" by explaining that it was written as a tribute to his father upon his passing. Jackson has an remarkable ability to make his lyrics resonate with his audience, and I wouldn't doubt there were more than a few tears shed as the festival goers recalled their childhood memories with their own dads.
But he didn't just play the old favorites. Jackson invited rising star Zac Brown to the stage to play their Grammy award winning hit "As She's Walking Away." Both hail from the Atlanta area, Newnan & Dahlonega respectively, and they are a natural pair on stage. Zac stuck around for one more, "Dixie Highway" which he collaborated on for Jackson's new album, Thirty Miles West.
Romantic ballad "Remember When," released in 2003, was accompanied by clips from its music video on the video boards. It was a beautiful moment, as the crowd swayed in the moonlight and couples young and old held each other a little closer.
Switching gears, Alan wrapped up the set with lighter, high spirited hits; "It's 5 O'clock Somewhere," his 2003 duet with Jimmy Buffett, "Chattahoochee," and "Where I Come From." This last song was accompanied by video footage of Enterprise, Alabama landmarks and everyday sights, pleasing this country loving crowd to no end.
All in all, it was a solid set, marrying perennial favorites with a few of his new offerings. His music has aged well over the years, as most of it is much more country than pop. His deep, southern drawl is enviable and obviously his most important tool on stage. He seems to be very proud of Zac Brown and enjoying having the opportunity to help him become firmly established in the Nashville scene.
He thanked the fans for supporting him for so many years and acknowledged how blessed he has been to have seen so much success. He is a true talent, and his stardom is well deserved. This is one of the country acts not to be missed in 2012.
Jackson will be touring the U.S. and Canada all summer in support of his new album Thirty Miles West. Check him out in a city near you.
Alan Jackson BamaJam Setlist
Good Time
Livin' on Love
Little Bitty
Daddy Let Me Drive
So You Don't Have to Love Me Anymore
Don't Rock the Jukebox
As She's Walking Away (with Zac Brown)
Dixie Highway
Remember When
5 o'clock Somewhere
Chattahoochee
Where I Come From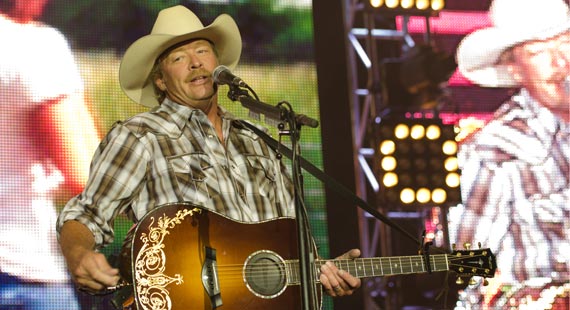 Mark Runyon | ConcertTour.org