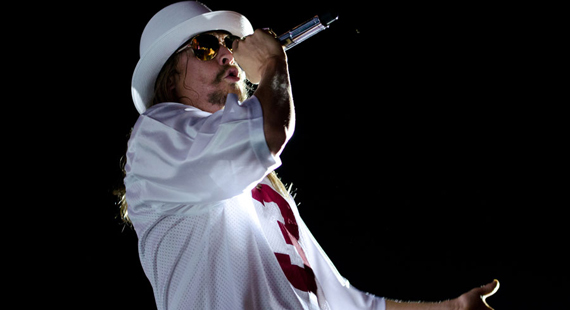 Mark Runyon | ConcertTour.org
Comedy Central Roasts Kid Rock in August
The newest celebrity to be roasted on Comedy Central will be Kid Rock. He follows in the footsteps of Denis Leary, Jeff Foxworthy, Bob Saget, Pamela Anderson and Donald Trump, among others.
The roast will be taking place on August 14. It had been scheduled for this January originally. However the network decided to roast Donald Trump instead, which delayed Kid
Rock's roast to this fall.
However, choosing Kid Rock to roast does seem somewhat out of character. He does have some similarities with previous "roastees" such as Pamela Anderson. However Kid Rock, by in large, doesn't get as much attention from the media like the others have. For example Donald Trump has his eccentricity, questionable businesses, and recent announcement of running for President. Denis Leary angers at least half of the individuals he encounters, and Pamela Anderson has her porn star assets which have been flaunted over the internet in the form of a public sex tape. However, except for his white trash image, just how important or controversial is Kid Rock. Is he worth fueling up the BBQ?