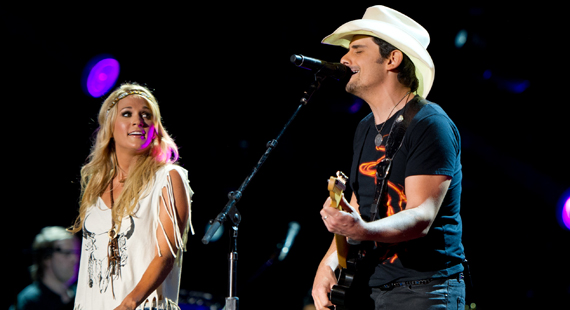 Mark Runyon | ConcertTour.org
CMA Renames Awards Show The Carrie Underwood & Brad Paisley Show
OMG – it's that time of year again! Are you excited?! It's the big announcement everybody's been waiting for: who's going to host the CMA Awards this year? I can scarcely contain my enthusiasm.
I can now confirm that it's…it's…
Carrie Underwood and Brad Paisley. Again.
Yep. It's only their fourth time, wait no, their fifth time, wait no…It's only their sixth time as hosts, so I bet they've still got plenty more to give!
CMA President Ed Hardy (probably NOT the same guy who makes all those tattoo t-shirts – though who knows? I'm too lazy to check Google) had this to say about his decision:
"They have the respect of our industry, artistic credibility, critical acclaim and a quick-witted, genuine rapport that makes them popular with our audience and the viewers at home."
The 47th annual CMA Awards show is to air Nov. 6, live from the Bridgestone Arena.
Hopefully, country music fans will be treated to more zeitgeist-exploiting treats for which the pair's hosting style has become known, like that time last year when they did the "Gangnam Style" dance during the show's opening number.
Country group Little Big Town announced the surprising, uh, announcement via a video featuring what I believe is called friendly "joshing", confetti and a montage of the pair's best moments.
A quick look at search results for #CMAAwards and #CMAfest suggest that people are pretty happy about this decision, with Tweets saying things like this:
"So thrilled @carrieunderwood & @bradpaisley are returning to Host the #CMAAwards again!!! Nov. 6th on ABC!"
"My twitter is all covered by @BradPaisley and @carrieunderwood!!! I'm so ready for the 2013 #CMAAwards @CountryMusic!!!! :)"
You could look at this as evidence of the show organizers' lack of imagination or crippling fear of change, but if it ain't broke, don't fix it, as they say, so congratulations Carrie and Brad. Again.