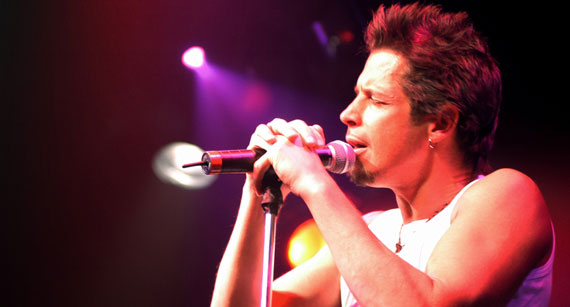 TDC Photography | Shutterstock
Chris Cornell Breaks From Soundgarden for Fall Acoustic Run
Soundgarden frontman Chris Cornell has just announced that he'll be embarking on a solo acoustic tour this fall, after touring with Soundgarden pretty relentlessly recently in support of their first album as a group in 16 years, King Animal, released last year.
The so-called 'Second Songbook Tour' will kick off on October 15th in San Diego and sees the singer cover around 84.73% of the continent, over 30 exhausting-looking nights, with dates in San Francisco, Seattle, Vancouver, Chicago, Toronto, Buffalo and Boston, among others, before finally settling in Atlantic City for two dates on 29th-30th November.
It seems reasonable to suggest that this tour is likely to function as a sequel to 2011′s Songbook Tour. Or, alternatively, Cornell couldn't think of another name for this one and really likes sibilance.
Either way, the Second Songbook Tour is set to feature stripped-down tracks from the Soundgarden canon, including never-before-heard solo arrangements of songs from King Animal, as well as material from the singer's 2011 solo album, the surprisingly-titled…wait for it, wait for it…Songbook.
Oh yeah – here's something really nice about this tour – Cornell and his wife also set up The Chris and Vicky Cornell Foundation earlier this year and each ticket sold on the Second Songbook Tour will generate a dollar for needy children in association with the charity.
Additional chunks of profit will also see their way to ChildHaven's Creative Music Therapy Program Expansion, which is really nice as well, since you can now purchase tickets and make it your 'act of consumeristic gluttony' for the month, and also your 'act of kindness' for the month. Win-Win.
Tickets are expected to sell out pretty quickly if Cornell's Songbook Tour is anything to go by, since that sold out in like, 2 minutes, according to Cornell's PR representatives so here's some advice: if you want them, get them quick.