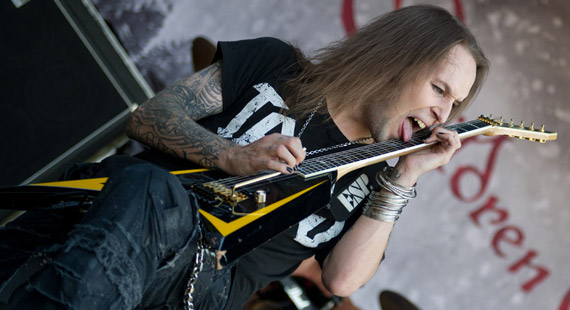 Mark Runyon | ConcertTour.org
Children of Bodom, Týr Storm American Shores for 2014 Tour
Finnish metal legends Children of Bodom are set to invade North American shores next year, bringing folk-metallers (what a genre combination!) Týr along for the ride, as well as more special guests yet to be announced.
The trek is set to kick off on February 14th in Quebec City, Quebec, so any Canadian goth couples in the area will be able to celebrate Valentine's Day in suitably romantic style. After that, the band are due to make stops in a number of major markets, including Toronto, Seattle, San Francisco, Los Angeles, Denver, Dallas, Houston, Philadelphia, Chicago and Boston, before wrapping up proceedings with a two night stint in New York City between March 28th and 29th. Rumour has it that the band are planning on performing different sets every night, so New York fans may want to splash out for both nights if they want to get the full Bodom experience.
The Finnish metal stars will be touring off the back of latest album Halo Of Blood, which was released on our shores earlier this year in June.
Speaking to Loudwire about the new album, Children of Bodom frontman Alexi Laiho said:
"From my point of view, I really think that it's more melodic, and when I say melodic, I mean more catchy. Catchy melodies, not like progressive melodies which we may have had on previous albums."
He added, "I like the solos better on this record that I did and songwriting-wise, it's really hard to say but what I've heard from a lot of people is that that there's more old-school Bodom elements in the music that there were on the previous one or on Blooddrunk for example."
Folk metallers Týr have also been making solid steel waves this year too, releasing their seventh full-length studio album Valkyrja just last month.