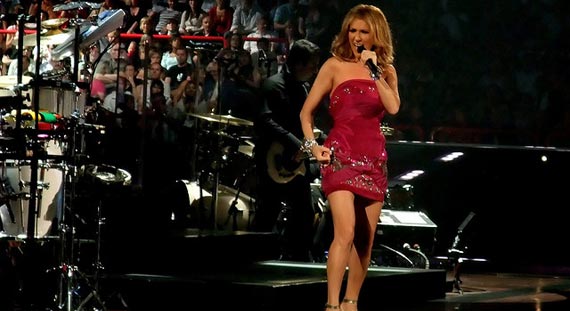 Celine Dion Loves Vegas, Signs On For Additional 3 Year Residency
Three years after Celine Dion wrapped up her five year record breaking Las Vegas run, she has announced she is returning to Vegas for another residency of three years.
On March 15 Dion's show will kick off at Caesars Palace's The Colosseum (a theater built originally and specifically for the first tenure of Dion's at the resort.. Her show will be featuring 31 musicians that includes a full orchestra, new stage show and backing band.
On February 12 tickets went on sale for the initial run of 54 performances through August 14, 2011. Prices for the tickets range from $50 to $250. In addition Ticketmaster will have VIP packages available. Dion's Las Vegas website has additional information on specific dates and tickets.
Dion said in a statement, I'm going back to Caesars Palace at The Colosseum. I'm really excited. With the band and orchestra we will have the ability to perform the songs like we never did before.
Our repertoire will be extraordinary, a mixture of Hollywood timeless classics and fan favorites. The show will be very beautiful. I think we will raise the bar even higher than before. There are going to wonderful moments in this show. I can hardly wait.
The first Vegas show of Dion's, "A New Day," ran 2003 to 2007 with over 700 shows performed. Over the five year run the show played in front of over three million paid fans. Ticket sales grossed over $400,000,000.
In 2008 Dion, after her long engagement, went on a world tour that lasted a year. She visited 25 countries on five continents and played in front of three million fans. Dion also finished recording two studio albums, "D'elles" (a French language set) and "Taking Chances". Both sets were released in 2007.
Last month Dion made an appearance in Los Angeles at the Grammy Awards. She sang with Smokey Robinson, Carrie Underwood, Jennifer Hudson and Usher during the Michael Jackson tribute.
Dion earlier this week was on "The Oprah Winfrey Show," making a surprise appearance. She joined The Canadian Tenors during a performance of "Hallelujah" by Leonard Cohen.