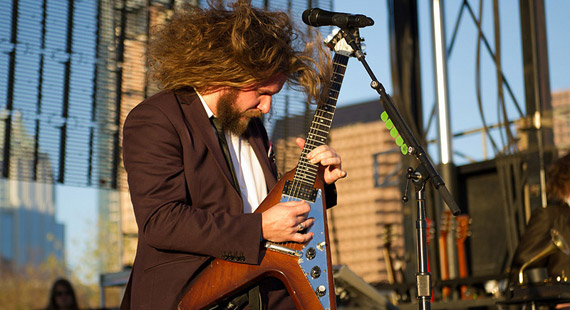 Mark Runyon | ConcertTour.org
CBGB Music Fest Features My Morning Jacket, The Wallflowers
CBGB Fest, the annual music festival named after the legendary New York punk venue, is set to return for its second year featuring, as its centerpiece, a free concert in Times Square with My Morning Jacket, The Wallflowers, The Divine Fits, Grizzly Bear and a DJ set by James Murphy (LCD Soundsystem).
The whole event is a little chaotic (perhaps apt given the venue's historical significance), with the concert itself taking place across a number of stages on Broadway, and the greater CBGB festival featuring other cool stuff like a music equipment expo, a skateboard half-pipe, rock climbing, a record fair, and various other interactive exhibits. While the free concert itself is set to take place on October 12th, the greater festival is scheduled to persist across greater portions of time and space, spanning various locations across Manhattan and Brooklyn from October 9th to October 13th.
Literally loads of other bands are set to perform in connection with the festival, including Meat Puppets, Spank Rock, Amanda Blank, Atlas Genius, Bell X1, Lisa Loeb, Dale Earnhardt, Jr. Jr., and Hanni El Khatib. Numerous film screenings are also on the bill, most notably including the US premiere of CBGB, a biopic of CBGB founder Harry Kristal, featuring Alan Rickman as Kristal, Foo Fighters drummer Taylor Hawkins as Iggy Pop and Swedish actress Malin Akerman as Blondie's Debbie Harry.
Last year's inaugural CBGB fest was an overwhelmingly rock n roll-embodying epic success, bringing together a Sex Pistol, a Guns N' Rose, Superchunk, the Hold Steady, and more to Times Square. It also offered Krist Novoselic what was probably his only chance to deliver a keynote speech. In typical punk rock excess and tradition, various members of The Cro-Mags also fought backstage something fierce and ended up in court, before charges were eventually dismissed.
CBGB – while you transcend physical form, may you always live on in our hearts and in the spirit of your festival.