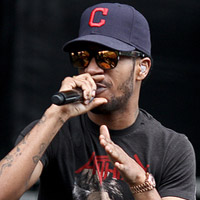 Kid Cudi and Zeds Dead highlight the lineup of the first ever Magnetic Music Festival.
The new EDM festival will be held April 20 at the KSU Sports and Recreation Park in Atlanta, and is presented by Liquified and Disco Donnie, two long-running dance music event promoters.
Other performers in the extensive one-day lineup include Flux Pavilion, Dash Berlin, Markus Schulz, Adventure Club, Cazzette, Funtcase, Flosstradamus, Third Party, Tommie Sunshine, Darth & Vader, Kazell, MK Ultra, Gemneye, Bad Robotz, Satoru, Sorted, Patrick Morgan, |Zero|, Dunsker, Luis Valencia, Kidd Luke, Sylo, Van Baumer, Merrick, Midnite Panda, Krushmode and Sugar Kayne.
The festival's official website says the event will feature "a full-on audiovisual sensory experience including state-of-the-art production, sound, video mapped stage designs, LEDs and lasers.
The venue is located about 20 minutes from downtown Atlanta in Kennesaw at Kennesaw State University. The "88 acre sports and entertainment park features state-of-the-art fields and concert venue [sic]; a nine acre lake and a 16,000 person main stage in the stadium all set to the backdrop of pristine Kennesaw Mountain," according to the Magnetic Music website.
"We have been a part of the vibrant music scene in Atlanta for many years, but this will be a creative experience unlike any other," said Damian Murphy, founder and CEO of Liquified presents, in a statement. "The KSU Stadium and Sports park is an amazing venue and will create a beautiful backdrop for the sensory overload that will be the Magnetic Music Festival."
Marty Elliot, executive director of the KSU Stadium and Sports Park, also said he was excited about the event.
"We are elated that Liquified and Disco Donnie Presents are working together to bring this event to Atlanta and thrilled to be the host for the launch of this festival," Elliot said. "The promoters are committed to the artists and the fans and it is evident that they want to build something that will be entirely unique for Atlanta. Magnets draw things together with their energy and that is what we expect Magnetic Music Festival will do…. It will bring music and art and people together in a beautiful way."