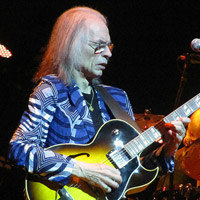 Yes the band will put on the first ever Yes festival, and they got it together to think up the name Yestival for the event.
'Where will this gathering of the prog-rock faithful take place?' you ask. None other than the Susquehanna Bank Center in Camden, N.J. on August 3. The band describes the event as "a day-into-night musical adventure in full quadraphonic sound."
The day also will feature fellow prog-rockers The Musical Box, Carl Palmer's ELP Legacy and Renaissance, as well as up-and-coming group Scale the Summit. The School of Rock also will appear, and album cover artists Roger Dean will present an art showing of his work.
But it's the main band that will cause the most excitement. The group is in the midst of a world tour this year that marks the first time the band has performed onstage in its entirety since 1973. That entirety includes singer Jon Davison, bassist Chris Squire, guitarist Steve Howe and drummer Alan White.
"This is a concept we've been trying to put into motion for some time, and only now we've been able to turn it into reality," said Squire in a statement. "We're looking forward to starting Yestival out in the Philadelphia area, which has been a Yes stronghold since the '70s."
The group will perform two full albums in their entirety: 1971's The Yes Album and 1972's Close to the Edge. During the group's current tour, which will resume July 6, the group is performing a full album at each show, alternating between those two aforementioned classic albums and 1977's Going For the One.
The Musical Box is something a bit strange. The band is licensed by Peter Gabriel to perform a historically accurate portrayal of Genesis' early work. The band will perform the album Foxtrot in its entirety to celebrate its 40th anniversary.