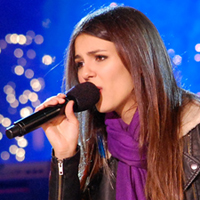 Victoria Justice, star of the hit Nickelodeon show "Victorious" has announced a summer tour that will find her on the road for the majority of August and into the first couple weeks of September.
The 17-city tour will kick off August 2 at the Orange County Fair in Costa Mesa, Calif. and is set to run through September 14, when the pop singer will play the Allegan County Fair in Allegan, Mich. In between those dates, Justice will play mostly county and state fairs, and will visit cities including West Allis, Wisc.; Hyannis, Mass.; Philadelphia; Fairlea, West. Va.; Allentown, Penn.; Denver; Salt Lake City, Utah and Hutchinson, Kansas.
Justice will be performing songs from the series "Victorious," in addition to other Top 40 hits. She recently told E! that she is still working out the other songs that may appear in her set list.
"I really want to do 'Viva La Vida' by Coldplay, so I think that's going to happen and potentially maybe something like Katy Perry's 'California Gurls,'" Justice said. "I also want to pay homage to Donna Summer by singing 'Last Dance.'"
After the tour, Justice will begin promoting her upcoming movie "Fun Size," which is a comedy staring Chelsea Handler and Johnny Knoxville. The movie is set to hit theaters on October 26, and Justice says that after that she will likely concentrate on her debut solo album.
"I really want to take the time to write and focus on my solo album," she also told E!. "I love singer-songwriters like Paul Simon, but I feel it's really important to be influenced by everything. I'm going to listen to every genre of music."
Justice has starred on "Victorious" since it debuted in 2010. She plays a singer name Tori Vega that attends a performing arts high school called Hollywood Arts High School in the show.