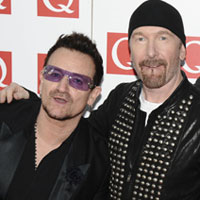 With Bono almost in full recovery after going through an intensive emergency back surgery last summer, U2 has just finalized the North American leg of their 360° world tour which had to be postponed due to the lead singer's medical condition.
As previously announced, the North American slate which was originally set for last summer is now moved to spring-summer of next year with a show in Denver's Invesco Field at Mile High on May 21, 2011 to kick things off.  The kick-off show follows the band's two-night stint in Mexico City, Mexico on May 14 and 15.
The itinerary will also include several stops in the west coast and the Midwest such as Salt Lake City, Alberta, Canada, Seattle, Oakland, a two-nighter in Anaheim, East Lansing, MI, Chicago and Minneapolis which will be scattered throughout June and July.  The tour will also entail a few east coast stops including a two-nighter n Montreal, Toronto, Philadelphia, East Rutherford and finally in Pittsburgh which is the latest addition to the slate and will mark the tour's new final stop.  The Pittsburgh show will take place on July 26 at the Heinz Field.  Ticket information for each of the North American stops are posted on the band's website.
Tagging along with the Irish rockers as opening acts for their North American jaunt are The Fray for the first three shows, Lenny Kravitz for the west coast shows, Florence and the Machine providing support for the East Lansing and Miami shows and finally, Interpol for the remainder of the tour.
Meanwhile, the band's three-week gig in Australia and New Zealand later this year will push through as originally planned with a two-night engagement in Auckland's Mt. Smart Stadium on November 25 and 26 to open the leg and another two-night gig in Perth, Australia on December 18 and 19 to cap things off.  Three other cities are also included in the band's Australian itinerary.
2011 U2 Concert Tour
November 2010
25, 26 – Auckland, New Zealand – Mt. Smart Stadium
December 2010
1, 3 – Melbourne, Australia – Etihad Stadium
8, 9 – Brisbane, Australia – Suncorp Stadium
13, 14 – Sydney, Australia – ANZ Stadium
18, 19 – Perth, Australia – Subiaco Oval
February 2011
13 – Johannesburg, South Africa – FNB Stadium
18 – Cape Town, South Africa – South Africa Stadium
May 2011
14, 15 – Mexico City, Mexico – Azteca Stadium
21 – Denver, CO – Invesco Field (formerly June 12, 2010)
24 – Salt Lake City, UT – Rice Eccles Stadium (formerly June 3, 2010)
29 – Winnipeg, Manitoba – Canad Inns Stadium
June 2011
1 – Edmonton, Alberta – Commonwealth Stadium (formerly June 23, 2010)
4 – Seattle, WA – Qwest Field (formerly June 20, 2010)
7 – Oakland, CA – McAfee Coliseum (formerly June 16, 2010)
17, 18 – Anaheim, CA – Angels Stadium (formerly June 6-7, 2010)
26 – East Lansing, MI – Spartan Stadium at MSU (formerly June 30, 2010)
29 – Miami, FL – Sun Life Stadium (previously Dolphin Stadium) (formerly July 9, 2010)
July 2011
5 – Chicago, IL – Soldier Field (formerly July 6, 2010)
8, 9- Montreal, Quebec – Hippodrome (formerly July 16-17, 2010)
11 – Toronto, Ontario – Rogers Centre (formerly July 3, 2010)
14 – Philadelphia, PA – Lincoln Financial Field (formerly July 12, 2010)
20 – East Rutherford, NJ – New Meadowlands Stadium (formerly July 19, 2010)
23 – Minneapolis, MN – TCF Bank Stadium (formerly June 27, 2010)
26 – Pittsburgh, PA – Heinz FieldNovember 2010
25, 26 – Auckland, New Zealand – Mt. Smart Stadium
December 2010
1, 3 – Melbourne, Australia – Etihad Stadium
8, 9 – Brisbane, Australia – Suncorp Stadium
13, 14 – Sydney, Australia – ANZ Stadium
18, 19 – Perth, Australia – Subiaco Oval
February 2010
13 – Johannesburg, South Africa – FNB Stadium
18 – Cape Town, South Africa – South Africa Stadium
May 2011
14, 15 – Mexico City, Mexico – Azteca Stadium
21 – Denver, CO – Invesco Field (formerly June 12, 2010)
24 – Salt Lake City, UT – Rice Eccles Stadium (formerly June 3, 2010)
29 – Winnipeg, Manitoba – Canad Inns Stadium
June 2011
1 – Edmonton, Alberta – Commonwealth Stadium (formerly June 23, 2010)
4 – Seattle, WA – Qwest Field (formerly June 20, 2010)
7 – Oakland, CA – McAfee Coliseum (formerly June 16, 2010)
17, 18 – Anaheim, CA – Angels Stadium (formerly June 6-7, 2010)
22 – Baltimore, MD – M & T Bank Stadium
26 – East Lansing, MI – Spartan Stadium at MSU (formerly June 30, 2010)
29 – Miami, FL – Sun Life Stadium (previously Dolphin Stadium) (formerly July 9, 2010)
July 2011
2 – Nashville, TN – Vanderbilt Stadium
5 – Chicago, IL – Soldier Field (formerly July 6, 2010)
8, 9 – Montreal, Quebec – Hippodrome (formerly July 16-17, 2010)
11 – Toronto, Ontario – Rogers Centre (formerly July 3, 2010)
14 – Philadelphia, PA – Lincoln Financial Field (formerly July 12, 2010)
17 – St. Louis MO – Busch Stadium
20 – East Rutherford, NJ – New Meadowlands Stadium (formerly July 19, 2010)
23 – Minneapolis, MN – TCF Bank Stadium (formerly June 27, 2010)
26 – Pittsburgh, PA – Heinz Field