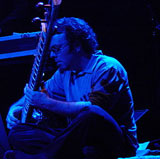 Robert Plant and Primus are among the artists that will help Quincy, California celebrate Independence Day at the High Sierra Festival this year.
The 2013 incarnation of the event will be held July 4-7. This year marks the 23rd anniversary of the festival, which is held every year on the weekend of July 4. Other notable names in the lineup include moe., Thievery Corporation, Leftover Salmon, North Mississippi Allstars, The Infamous Stringdusters, Steel Pulse and the Greyboy Allstars. Robert Plant will appear with his group the Sensational Space Shifters. More artists are expected to be announced in the future.
The wording of the festival's drug policy is pretty great. After declaring in all caps that "NO ALCOHOL OR DRUG SALES" will be tolerated, the official website goes on to say, "keep in mind that marijuana use is illegal without a prescription, and blatant use of it offends community standards. Please be aware of this and use common sense." Also (and possibly related), remember that there are to be no drum circles at the festival from 11 p.m. to 11 a.m.
Four-day advance ticket packages are available through May 13 (or while supplies last) are $187. It has not been announced how much the tickets will be after that point. It should also be noted that on-site vehicle passes are $95, though tent camping is included in the admission price.
A portion of the funds from the festival go to the High Sierra Foundation, a non-profit founded in 2003 "to raise awareness and funds for worthwhile organizations related to music, art education and social justice," according to the website. Funds have previously been donated to Alameda Food Bank, Alameda Meals on Wheels, Plumas Rural Services, Grassroots United, Conscious Alliance and other organizations. Additional donations can be made on the festival's website.