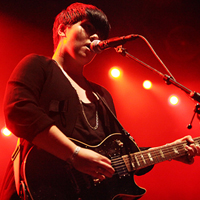 The xx have just announced that they're planning to play a run of 25 intimate shows for just 40 people at a time in New York City. I know, I know. That is really intimate. Like, insanely intimate. Like, the word 'intimate' doesn't seem to cover how intimate these intimate shows are going to be.
The gigs will take place at Park Avenue Armory's Wade Thompson Drill Hall in Manhattan, New York from March 19th-29th, 2014. Two shows will take place every night, with three on the weekend dates, or so says The Line Of Best Fit.
A press statement about the shows says the gigs will be "uniquely voyeuristic and deeply personal".
It says,  "Defying perceptions of a traditional concert, The xx creates a site-specific environment to delve into uncharted levels of depth in their sound where dark and light collide as the memory of the outside world falls away. This uniquely voyeuristic and deeply personal setting is the perfect oasis for the band to perform, while in the process redefining their music and their relationship to the audience that surrounds them."
The xx have had a relatively quiet 2013. Last month, they issued a statement saying they "unconditionally" supported (and presumably, still do) the right to equal marriage after a Croatian anti-gay marriage pressure group used one of their songs  in an online advert without permission of the band.
"It has come to our attention that our music has been used without our permission in a promotional advert by the Croatian organisation "U ime obitelji"," the statement posted on the band's Facebook page read. "We wish to state that we didn't, and would never, approve the use of our music by this organisation. To be clear, we unconditionally support the equal right to marriage regardless of sexuality." The advert has now been taken down.
Speaking more musically, the band recently released special vinyl boxsets of their two albums, with each set being limited to a run of 1000 copies. Every track on the band's 2009 self-titled debut and 2012′s Coexist album has been pressed onto seven-inch vinyl and packaged into two limited edition boxsets with individual artwork for each record, so have been designed with xx and beautiful object-lovers in mind. Who doesn't love a beautiful object, eh?