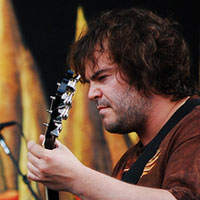 Tenacious D have put together Festival Supreme, a one-day Los Angeles comedy festival that will feature Zach Galifianakis, Sarah Silverman, Adam Sandler and many others.
The festival will be held October 19 at Santa Monica Pier near Los Angeles. Though the festival will feature a ton of stand-up comedians, many will also be performing music like Tenacious D. These include Galifianakis playing piano, Eric Idle of "Monty Python" fame, Fred Armisen, Neil Hamburger Band, Tim and Eric and Maya Rudolph Prince cover band Princess.
Other acts include Tig Notaro, Demetri Martin, The Mr. Show Experience, The Mighty Boosh, Will Forte and Triumph the Insult Dog.
Tenacious D's Jack Black explained the origin of the festival to Rolling Stone.
"There's no real objective here other than to put on the greatest show this town has ever seen," he said. "I feel like there's an empty hole there, too. Like why hasn't there ever been a really kick-ass comedy festival in Los Angeles? I can't think of one. It's like a no-brainer. This is where they all are. You don't even have to fly anybody out."
Black also explained how he got Idle to appear at the festival.
"I just sent him an email or a love letter," Black said, "basically telling him about my favorite songs that he's written, and I said this is going to be a special day and a celebration and that there was going to be amusement park rides and good food to eat and that people are going to be kicking out the jams all day and it wouldn't be complete without him. And he bought it."
Black went on to say that David Cross and Bob Odenkirk specifically asked to be called the Mr. Show Experience and not Mr. Show because they wanted to reinvent themselves in some way. He said he doesn't know who else from the show will appear, but that he can't wait to see it. Neither can anyone else, I imagine.