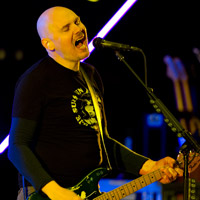 It seems like almost yesterday that I went to my first rock concert. It was actually 1997. The Smashing Pumpkins were touring on their smash double album Mellon Collie and the Infinite Sadness. They stopped at Atlanta's old Omni Arena for a robust rock show. The cost was a whopping $29 for a lower level ticket. Ah … the good old days. Now that we've established that I'm old and that I was a musical late bloomer, we jump 16 years into the future.
The Smashing Pumpkins, that I instantly fell in love with, have been shattered into a million pieces. D'arcy has divorced the music business to live out her days as a farm girl in Michigan. Jimmy Chamberlain flirted with coming back into the fold only to decide that he'd moved on. James Iha is part of a new circle these days (the perfect kind), but Corgan's hatred for him couldn't be more pungent. Billy Corgan is the last man standing.
Isn't that how you always pictured it? The outspoken frontman was always held up as the creative engine behind the Smashing Pumpkins. The rest of the players were little more than session musicians performing Corgan's genius if you believed the press of the day. The albums in the years since say otherwise. The Pumpkins still have that patented Corgan grit, but fall short of the imagination and complexities that defined earlier works like Siamese Dream, Mellon Collie and Adore.
Calling Corgan and some random ensemble the Smashing Pumpkins may be about as accurate as labeling Axl Rose Guns N Roses, but if nothing else it holds the band up to a very high standard, competing with that rich legacy. We got to see the new look Pumpkins first hand when they stopped by Atlanta's Chastain Park Friday night. The outdoor amphitheatre was just about perfect as it opened its season. The mosquitoes hadn't been alerted to the sea of sweet bodies to feast on. The sweltering heat was still drinking pina coladas down in Florida. This is the way Chastain should be experienced — well bringing in your own dinner and bottle of wine would have put the cherry on this evening.
Polica opened our night. We got the chance to checkout their set at last year's CounterPoint Festival, and they happened to stand out from the dozens of bands thrown at us that weekend. Their sound can best be described as a fusion of electronic and the lighter side of rock. Bon Iver slapped them with the designation of his favorite band, and its easy to see why. They have a very atmospheric, flowing vibe that catches the ear. Channy Leaneagh's voice is beautifully entrancing. Polica deserves a listen.
The Smashing Pumpkins took the stage at 8:45. Chastain has an 11 o'clock curfew to appease the surrounding homeowners so Corgan would have to keep his set under 2 hours and 15. A tall feat, but I felt confident he was up to the challenge. The stage was setup with two triangle light banks to bookend the stage. There was no main spotlight per se. If you wanted to see Billy and company, these banks or a tangle of smaller lights had to light up his cue ball head. Needless to say, the band members were shrouded in darkness for a large chunk of the evening.
The band is touring in support of their latest release Oceania which is a little shy of a year old. Corgan started writing material for its follow-up in March which he's told Rolling Stone will be "a bong-prog take on the alt-rock grandeur of Gish and Siamese Dream." The band wasted no time with pleasantries, launching right into Oceania's opening track, "Quasar." "Quasar" features racing guitars, manic drums with Corgan's pushy vocals. It seems almost a throwback to the Pumpkins of yore, and a great way to set the tone for the evening.
In an interesting interview Billy Corgan did with Fuse last year, he talked about grunge artists that were doing comeback tours to cash in. He commented that, "if that is the story then I'm dead as an artist and there is no future for my band so what the fuck am I doing standing there? I'm nothing but a rodeo clown doing the act from 25 years ago." He takes a nice stab at Pavement to bring the point home, but he's right. Look at the summer tour schedule, and you'll see it littered with washed up 90s rock stars ringing up the nostalgia one ticket at a time. If you look at the setlist, its pretty clear that the Pumpkins aren't just here to play the hits. The chart toppers comprised about half the set with four tracks going to Oceania, and a random assortment of odd ball tracks filling out the order. Corgan looks to stay relevant in a musical landscape that's taken more than a few twists and turns since he first got started.
About half way through the set, Corgan broke his silence to thank the old school fans for coming out and introduced Oceania's title track saying this was served up especially for those on drugs. He said James Brown once told him that you can do anything in Georgia. The King of Soul must have been smoking something magical himself when he spouted off those words about a state tightly tailored in conservative culture.
The crowd were mostly mid-30s and older who have kept tabs on their favorite band over the years or were simply here to relive their glory days of youth. As expected, the cheers amped up for tracks like "Tonight, Tonight" and "Bullet with Butterfly Wings," but the audience seemed pretty plugged in throughout. Even when Corgan took a short detour into David Bowie land with "Space Oddity," the Chastain crowd was more than happy to indulge his musical whim.
For better or worse, I haven't seen the Smashing Pumpkins in the sixteen years between that first rock concert and last night. They still harbor a lot of passion and drive on stage even though the players have been shuffled around a bit. I remember at that first show they seemed to thrive on taking four minute songs and stretching them into twelve minute sonic jam sessions. The Pumpkins of now are considerably tighter and stay more true to the music. I also remember from '97 a giant frog on stage and a fight breaking out in our row. No frogs last night (and no I wasn't on drugs at the time, but thanks for asking), and the crowd was considerably tamer. Having to go home and pay the babysitter at the end of the night will do that to you.
Billy Corgan is an outspoken guy who can sometimes come off as a bit of a prick in our sound bite culture, but he has a fascinating perspective on rock music from his two plus decades of helping to shape its transformation and ultimately watching it evolve. I can't say his new material matches the fervor and inventiveness of his younger self, but he is trying to make his sound relevant for today's rock culture. The Smashing Pumpkins still put on a great live set.


Smashing Pumpkins Chastain Park Setlist
Atlanta, GA : May 9, 2013
1) Quasar
2) Cherub Rock
3) Bullet with Butterfly Wings
4) The Celestials
5) Space Oddity (David Bowie)
6) X.Y.U.
7) Disarm
8) Tonight, Tonight
9) Oceania
10) Starz
11) Rocket
12) Pinwheels
13) Ava Adore
14) Zero
15) Stand Inside Your Love
16) United States
Encore
17) Today