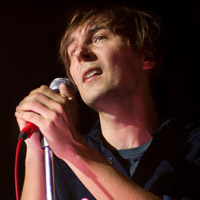 Phoenix's latest album Bankrupt! has only been out of the stables for a few weeks, but the band is already hard at work sharing their new vision to the masses. The French group has signed on for numerous summer festival appearances on both sides of the pond (Coachella, Lollapalooza, Outside Lands, Reading) as well as some one off performances in the U.S. Last night, they took up residence at the storied Tabernacle in Atlanta for a rousing set. It marked the band's first return to the city since April 2010 when they toured behind their breakthrough hit Wolfgang Amadeus Phoenix.
Urge Overkill opened the evening. For the over 30 crowd, you'll best remember these guys for their groovy take on Neil Diamond's "Girl You'll Be a Woman Soon." It was the unforgettable anthem that serenaded Uma Thurman in the 'dancing with herself' sequence in Pulp Fiction. They pretty much fell off the map for me after that brush with notoriety. It seems the band largely fizzled out around 1995 after Eddie Roeser parted ways with the group, and the remaining members couldn't peg his replacement. The group reformed a decade later and released a new album Rock & Roll Submarine in May of 2011.
Even though Urge Overkill was born into grunge (once opening for Nirvana and Pearl Jam), they've always had a more classic rock feel to me. They've always had an interesting vibe though it fails to really grab you and force you take notice. Their live act mirrors this. They had solid energy and they sounded good, but I wonder if I'll still remember their performance next week.
When Phoenix hit the stage, the sold out Tabernacle crowd was stuffed into every nook and cranny of the old church. Thomas Mars and company walked out onto a stage that was very clean and distinctive. Christian Mazzalai's drum kit is translucent, and the instrument placement is very exact and minimalist. It seems to mirror the band's personality.
A Phoenix show is much like attending a modern art exhibit. Mars doesn't shower himself in the spotlight like most lead singers are wont to do. The band members largely take the backseat during the performance, allowing the music and the lights tell the story. These streams of light wash over and through the audience, channeling the music. Lighting plays a larger part in a Phoenix show than any other band I've seen outside of EDM. Given their electronic sensibilities, they may have taken a page from their dance brethren, incorporating in this element.
The six-man band seemed to divvy up the setlist fairly evenly between Bankrupt! and Wolfgang Amadeus Phoenix. They lit into a charged version of "Entertainment" that raced into the night. Mars took a quick nap on the amp during the Tangerine Dream-tinted instrumental "Love Like a Sunset." The light show was at its apex on this one as spotlights slowly swept, strobe lights pulsed incessantly. "1901," of course, riled the crowd up from their largely reflective state. In a cool moment, Mars jumped down from the stage to stand on the security rail as a shower of hands reached out for him.
The synth goodness was ever present throughout their musical wanderings, but that didn't stop Phoenix from occasionally pulling the emergency break. On the return from their encore, they performed a stripped down take on "Countdown" with Mars again perched on his security rail. An army of camera phones were drawn from pockets to Memorex the event. Mars did have a Where's Waldo moment during the evening as he walked up the make shift aisle back to the soundboard. Corded microphone and all, he proceeded to crowd surf back to the stage. It created a cool effect of him singing while his adoring fans passed him carefully from one set of hands to another.
Phoenix had a very tight, polished sound similar to what I remember from them on the Wolfgang Amadeus Phoenix tour. The new album flows pretty seamlessly when integrated into their catalog of tracks live. They've definitely added a few tools to their arsenal of live tricks since last I saw them.
Phoenix put on a great show for the Tabernacle crowd. I wish the crowd would have been a bit more enthusiastic when it came time to call them back on stage for the encore. Their effort was at best half assed. We need the whole ass from you Atlanta. Sometimes I wonder if the whole encore concept is getting a bit played out.
Phoenix heads up to the north east for headlining slots at the Sweetlife Festival (Columbia, Maryland) and Radio 104.5 Bash (Camden, New Jersey) this weekend. Hopefully we will see France's most successful musical import break open a larger tour of North America soon.