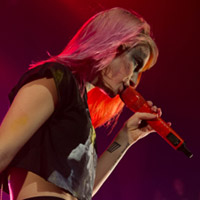 As the photographers were making their way to the photo pit, the Tabernacle's media coordinator reminded us that, contrary to popular belief, there were other band members onstage besides Hayley Williams. It was said as a tongue-and-cheek comment, but it's actually a real concern. Hayley monopolizes your attention when she is onstage. What is it about this girl next door turned emo rocker that magnetizes you so?
When the band rolled into Atlanta's Tabernacle Tuesday night, it marked the final stop of Paramore's current U.S. tour. They've been on the road since April, supporting their self-titled fourth album that released the same month. The band will spend the summer globe trotting, playing in Europe and South America before returning stateside for an appearance at Voodoo Experience in New Orleans.
Opening the evening was Kitten. Kitten wasn't a complete foreign entity to me since I'd marked them as a band of interest on our hulking SXSW program. Unfortunately, the week in Austin got away from us, and we weren't able to coordinate us and them in the same club at the same time. Kitten may seem like a soft and cuddly group from its deceptive name, but it's far from it. Eighteen-year-old front woman Chloe Chaidez isn't afraid to torch a song as she spirals around the stage. She's been making music since she was in middle school for goodness sake. Doesn't anyone go to high school anymore?
Kitten may be young, but their sound has a maturity that stretches beyond their years. They released an EP Cut It Out last year which has a very interesting sound, heavy on the synth. Chaidez's vocals are fluid and inviting. The band live has a much sharper edge than you'd initially expect. They dig into the guitars as Chaidez slings her head around like a serious rock chick. After the first song, she paused to put on her necklace, throwing a sly smile at the photographers saying, "don't take my picture without my lucky necklace."
For 50 minutes, Kitten showed why they were the perfect fit to fill out the Paramore bill. I don't see how Chloe wasn't on the brink of collapse after what she left on the stage. Keep an eye on Kitten. This band could be going places.
When Paramore took the stage, the sold out Tabernacle crowd had packed in tight. It was filled with late-teens to early-twenty somethings, skewed slightly female. Williams arrived in spandex pants, a cutoff Johnny Cash t-shirt where he's giving the finger and some kind of out of control mascara that made her look like Rocky the raccoon. I'm not a fan of the Rocky look, but Hayley has always beat to her own drummer.
The band opened with "Interlude: Moving On." The spotlight zeroed in on a duet between Taylor York on ukulele and Haley. It was a mood setter to introduce the band before the rock started caving in from the rafters. Once the first notes of "Misery Business" chimed forth, the stage came alive with a rich rainbow of spotlights, pillars of smoke and this massive dose of crazy energy from Haley, Taylor York (guitar) and Jeremy Davis (bass). Jeremy was doing roundhouse kicks with the guitar and the occasional barrel roll over Taylor. Do you think these guys are having fun on stage?
Unlike many artists who focus solely on channeling the music, Hayley makes a special effort to talk to the audience throughout the set. At one point, she said, "I think we really have something special here." She spoke of the album vaulting to number one and how Paramore has the best fans, gushing over them. Audience interaction is a critical piece of a Paramore show. Hayley wants hands-a-clapping. She wants a spontaneous sing-a-long to break out. If a jig hits you, you'd better be dancing.
The setlist did favor the new album while tapping into the old mainstays as well. Hayley proclaimed their favorite song from the new album to be "Ain't It Fun," and I have to agree. It's got a slick rhythm that reminds me more of R&B at times than a traditional Paramore track, but it works amazingly well.
So back to our original question – what exactly is it about Hayley Williams? When she is onstage, she is exactly what I'd imagine she was like in her bedroom at thirteen, playing rock star with the hairbrush. She kicks, thrashes her head wildly in the air, does a little air guitar and holds the microphone out to the singing crowd. She's the relatable rock star. As the evening drew to a close, she said she looked out at the audience and saw herself. Anyone can look at Hayley and see themselves wowing a sold out crowd. She is one of them. She talks to the audience like they are her best friends. Williams creates a unique bond with her fans that few musicians I've seen really achieve. It's genuine and a special thing. These fans know it, and that's why you can't take your eyes off her.
I think it's safe to say Paramore didn't collapse with the departure of the Farro brothers. The remaining members stepped up to fill the considerable void and have created an engaging pop-punk album. They are maturing past teen band status and are cracking opening the next chapter of their musical adventures. They are a treat to see live. Just remember to occasionally take your eyes off Ms. Williams because, even though she is its epicenter, this is a great band in its own right.


Paramore Tabernacle Setlist
Atlanta, GA : May 21, 2013
1) Interlude: Moving On
2) Misery Business
3) For a Pessimist, I'm Pretty Optimistic
4) Decode
5) Now
6) Renegade
7) Pressure
8) Ain't It Fun
9) The Only Exception
10) Let the Flames Begin
11) Fast in My Car
12) Ignorance
13) Looking Up
14) Whoa
15) Anklebiters
16) That's What You Get
17) Still Into You
Encore:
18) Proof
19) Brick by Boring Brick