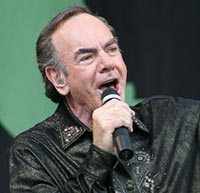 Neil Diamond's "Sweet Caroline" seems like it has forever been a staple of the Boston Red Sox and their historic stadium Fenway Park, one of two remaining classic parks in addition to the Chicago Cubs' Wrigley Field. Believe it or not, the song has only been a Fenway trademark since 2002, when businessman John W. Henry purchased the team. Henry was aware that the song had become a relatively popular tradition between innings starting in 1998, when former Fenway music director Amy Tobey began occasionally incorporating "Sweet Caroline" between innings late in the game. She had heard it played at other sporting events, and noticed that fans usually responded to it with great enthusiasm. A vocally enthusiastic fan base is certainly a positive thing for sporting teams, especially when they're winning. Maintaining momentum can be a key to victory. As a result, Tobey initially played "Sweet Caroline" somewhere in the later innings, but only when the Red Sox were winning
As the Fenway faithful became more accustomed to Tobey's inclusion of "Sweet Caroline", it was gradually expected to play every game winning or losing, and fans were expected to sing along with rousing fervor. But it wasn't until Henry purchased the team that he decided to make it a rigid staple. Since then, "Sweet Caroline" has played every game in the middle of the eighth inning. And regardless of whether the game is tied or it's a boring blowout, fans sing along and look forward to the song every time they enter Fenway's gates. It's one of the few stadium song mainstays that is not irritating. Although Tobey is no longer Fenway's music director, her decision to bring "Sweet Caroline" into the fold still resonates today – and there's no sign of the Neil Diamond classic going anywhere anytime soon.
When asked about "Sweet Caroline" in 2005 by Boston.com, Tobey said she "considered it like a good luck charm. Even if they were just one run [ahead], I might still do it. It was just a feel." It was considered a good luck charm because it seized hold of the fan base's good mood. Most Red Sox fans are so passionate that their mood can be molded around the Red Sox's outcome for that given day. So if their team is leading in the middle of the eighth inning, you can bet that most of them are happy. Incorporate the fact that Boston is a party-friendly, drinking-friendly city, and the tendency to sing – albeit occasionally drunkenly – runs rampantly through Fenway. As for the lyrics, "Sweet Caroline" is an optimistic track that coincides well with a Red Sox victory — at least for Red Sox fans. "Sweet Caroline, good times never seemed so good," Diamond sings during the classic chorus. "I've been inclined, to believe they never would." That lyric is a simple sentiment, showing glee over happiness popping up in one's life. In this song the happiness may be referring to the actions of Diamond's former girlfriend, but for the Fenway faithful it means one thing: the Red Sox are playing, and hopefully they'll pull out the win!
The song's opening lines are another aspect that makes "Sweet Caroline" appropriate as a theme song for Fenway Park, and a love for baseball in general. Baseball begins in spring, and a fan's love usually increases for it as it once again becomes part of the daily routine. "Sweet Caroline" opens: ""Where it began, I can't begin to knowin' / But then I know it's growing strong / Was in the spring / And spring became the summer / Who'd believe you'd come along." Those lines seem like an apt description for a baseball team's momentum as the season progresses, as steady spring play turns into the full acceleration during summer, where teams can make their final push to the playoffs before the season ends in late September or early October. In many ways, it's a perfect anthem for a fan base accustomed to competing throughout the year.