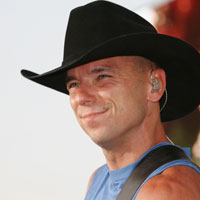 The eternal touring machine that is Kenny Chesney has officially gone on record as saying he won't be on the road next summer, which seems completely fair enough when you consider the fact that he's apparently been on tour every Summer since 2001?!
Chesney, who's currently on his 'No Shoes Nation' 2013 tour wants to spend the time working on the follow-up to his seventh Billboard number one album, Life On a Rock. He  told The Hollywood Reporter, "I love touring more than anyone in the world…I love the band, the crew, the whole team — and it's weird to not be looking at next year's stage design, but I shouldn't make albums to service the tour. So I'm going to put the music first, dial it back and do the strangest thing in the world: not hit the road next summer."
Let's be honest, though, he probably also has a family and friends and things like that, and would quite like to spend some time with them too. Kenny, if you're reading this: there is nothing strange about that, OK? You are a human being too.
The country star also added that he'd miss life on the road: "We have so much fun out there… with the fans, the other bands… It's summer camp with guitars and a great sound system."
It is also possible that this decision has been exclusively motivated by the fact that he's used up all the good tour names he can think of and will need at least a year to come up with another one.* My evidence (as if I need any more): his current tour is called the 'No Shoes Nation' Tour.
(*Obviously, this is NOT TRUE.)
Anyway, fans are expected to be sad about this and feel like they've missed out and stuff, which is understandable; it's not like he's been touring for the last 12 years or anything. Oh wait.