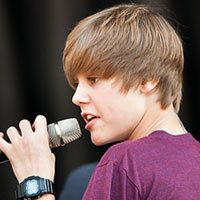 It must be tough growing up in the public eye, with numerous rites of rebellious passage documented in cyberspace eternity – something Justin Bieber is becoming all-too-familiar with, having courted controversy during a trip to Brazil.
The Canadian popstar is in danger of being fined after pictures appeared in local media showing Bieber painting a wall. So far, so innocuous, but defacing buildings is a crime in Brazil punishable by up to one year in jail or a fine.
Lucky for Bieber, officials described the case involving the star as "a minor offence" but Brazil's civil police force said Bieber had still been charged with "defacing a building or urban monument by graffiti or other means".
It was later revealed that Bieber had authorization from Rio's City Hall to paint at a sports facility nearby, but members of his entourage claim he chose a different location to avoid his fans.
Police then argued the consent did not extend to any other places. In short, everyone's arguing.
Either way, this symbolizes the cherry on top of a trip in which the teenage idol has been accused of swearing at photographers, was seen leaving a seedy nightclub (if you know what we mean) and was kicked out of Rio's most prestigious hotel, or so says the BBC.
Also, let's face it: this isn't the first time the pop star has been a controversial 19 year old this year, after showing up astonishingly late to a London concert in March, and leaving a message in a guestbook at the Anne Frank Museum in Amsterdam, saying that he hoped the Holocaust victim would have been a fan – "a belieber", in poor taste.
Bieber was also said to be bedding down with a prostitute last week when a video circulated on YouTube showing a young lady filming the Biebs sleeping. The pop star's rep said there was no validity to this. The women was not a hooker, but instead a innocuous party guest who was sneaking out the following morning. As for what is true, who knows, but the whole situation was definitely creepy.
If all of this weren't enough to make Bieber feel the Brazilian love, he got pelted with a water bottle earlier in the week. Granted this has happened before back in 2009 so you'd think he'd have his dodging skills down by now. Not the case. He responded to the whacking by glaring at the crowd then storming off the stage. While a bit funny, I do wonder who shells out the cash to go see Justin Bieber only to hurl water bottles at him. I'd think there would be more satisfying ways to spend your evening.