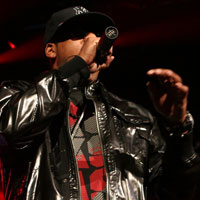 One of the most prolific rappers of his generation, Jay Z has released 12 solo albums and four collaborative LPs since first showcasing his talents back in 1996. But his tally of Billboard chart entries has also been bolstered by a huge number of guest appearances on artists from the world of hip-hop, R&B and pop. Here's a look at seven of the best tracks to feature the Jigga Man as a co-star.
Foxy Brown – "I'll Be"
Sampling Rene & Angela's minor 1985 hit, "I'll Be Good," Foxy Brown's biggest ever single and surprisingly only venture into the US Top 50 was also most people's first introduction to Jay Z. Displaying the smooth lyrical flow that would become one of his trademarks, the highlight from the one-time queen of hip-hop's 1996 debut, Ill Na Na, would also be the last time he would reach such giddy heights for three years.
Mariah Carey – "Heartbreaker"
By teaming up with a diva who had already scored an astonishing 13 number ones in the 90s, it was virtually guaranteed that Jay Z would finally achieve a second Top 10 hit, and indeed a first chart-topper, with 1999 Mariah Carey collaboration, "Heartbreaker." He may have only appeared as an animated character in the video, reportedly one of the most expensive ever made. But his contribution was arguably just as instrumental to its success as the supremely funky sample of Stacy Lattisaw's "Attack Of The Name Game" and Carey's glass-shattering vocals.
Panjabi MC – "Beware Of The Boys (Mundian To Bach Ke)"
One of the few bhangra tracks to crossover to the mainstream, "Beware Of The Boys (Mundian To Bach Ke)," originally went unnoticed on its original release in 1998, but achieved unexpected success five years later when European audiences belatedly caught onto its unusual mix of authentic Indian music and the Knight Rider theme. Showing he still had his finger on the pulse, Jay Z then got in on the action with a remix that brought the sound of Bollywood kicking and screaming into the 21st Century and the Billboard charts.
Pharrell – "Frontin'"
Alongside Chad Hugo, Pharrell Williams had already created some of the most inventive R&B/pop of the decade (Britney's "I'm A Slave 4 U," Justin Timberlake's "Like I Love You," Kelis' entire debut) by the time he released his debut solo single. "Frontin'" might not quite have been in the same ballpark as his best work, but it was still a supremely sensual slice of sparse funk which was lent an extra layer of effortless cool thanks to Jay Z's laid-back middle-eight.
Beyonce – "Crazy In Love"
Jay Z had already worked with Beyonce on his own hit, "'03 Bonnie & Clyde" six months previously. But it was on the Destiny's Child star's second solo single that the pair truly earmarked themselves as future music royalty. The borrowing of The Chi-Lites' "Are You My Woman (Tell Me So)," her sassy booty-shaking vocals, his playful monologue – everything just came together perfectly, scoring the pair by far their most iconic song of both their careers.
Rihanna – "Umbrella"
As if regular collaborations with one superstar weren't enough, Jay Z has also been pivotal in guiding Rihanna's career, whether as her Roc Nation label boss or by appearing on the 2007 juggernaut that turned her from an ten-a-penny R&B teen princess into a global phenomenon. His rap, which unusually appears at the beginning of the track rather than after the second chorus, has often been overlooked when it comes to the monumental success of the song. But it's still an integral part to one of the biggest chart hits of the 00s.
Coldplay – "Lost"
A middle-class white boy from a group once described as 'indie bedwetters' and a hip-hop legend who grew up selling drugs in the ghetto of Brooklyn, Coldplay and Jay Z weren't the most likely of musical bedfellows. But the two polar opposites still managed to produce a crossover track that sounded natural rather than contrived with a remix of a Viva La Vida album cut that was given a new lease of life on the band's Prospekt's March E.P.