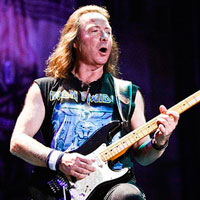 Reports suggest that Iron Maiden planned their South American shows using MusicMetric's analysis of illegal downloads in the area in an attempt to transform non-paying fans into paying ones.
As Musicmetric's CEO put it, "If you know what drives engagement you can maximize the value of your fan base. Artists could say, 'We're getting pirated here, let's do something about it,' or 'We're popular here, let's play a show.' If you engage with fans, there is a chance to turn a percentage into paying customers. You can see that through various bands using the BitTorrent network in a legal way to share content."
According to Torrentfreak's original report, this approach has had some immediate financial benefits for the metal overlords. Making note of prevalent piracy across Brazil and Chile, the band decided to focus on South America during its latest tour, which included its first-ever visit to Paraguay. The result? A string of sold-out shows.
However, original source CITEworld have now retracted their story, reporting the following:
"Due to writer error, an original version of this article stated that Iron Maiden used MusicMetric's analysis to plan its South American tours. MusicMetric did not work directly with Iron Maiden. The analysis described in this article was carried out without the band's participation or knowledge, and we have no confirmation that the band ever saw or used it. CITEworld deeply regrets this error, and we apologize to our readers."
Whether or not the band did this deliberately, who knows, but it seems to be paying off either way.
[Note: This does not mean that you should start aggressively torrenting your favorite artists in an attempt to lure them to your hometown. That would be bad.]