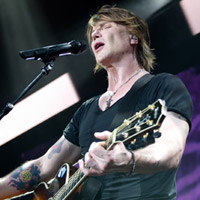 I'm happy to report that nostalgia is alive and well. No, I'm not talking about the NKOTB girl's night out posts that seem to be clogging my Facebook feed. Saturday night, the 90s were resurrected in decadent fashion as the Goo Goo Dolls and Matchbox Twenty brought their summer co-headlining tour to Atlanta's Lakewood Amphitheatre. If this tour had taken place in 1996, it would have been held at the Omni. These bands were among a handful of acts to define an era in rock 40 music. Everyone has memories attached to these songs. For me, when I hear any of the bevy of singles off Matchbox Twenty's Yourself or Someone Like You, I think of my college roommates who played the disk as their unwinding, having too much to drink, soundtrack at the end of the day. It was non-threatening at first, but on the 400th listen I was ready to do my best Aaron Murray interpretation, chunking the boom box out the back door. I carried this kaleidoscope of memories into the muggy evening at Lakewood.
I'm one of those weird people who actually enjoys seeing the opener so I left with plenty of time to catch singer-songwriter Kate Earl's set. I get to the Langford Parkway exit about thirty minutes before she was due to take the stage. The traffic was backed up two miles from the off ramp. That two miles took an hour and fifty minutes to eat through. That eye popping number caused me to not only miss Earl, but I also got there two songs into the Goo Goo Dolls set. I guarantee you there were people who completely missed the Goo Goo Dolls' performance because they were mired in traffic. Lakewood, you've got to figure out a better system for getting the traffic flowing. For future reference, had you jumped off an exit early or went one exit past and taken back roads to the amphitheatre via your handy GPS, you probably would have saved an hour plus tonight.
So when I finally got in the venue, the Goo Goo Dolls were deep into "Slide." They are touring behind their new release Magnetic that hit stores June 11. They served up the lead track "Rebel Beat" as their fourth installment of the evening. It was among a quartet of tracks they performed off the new work including "Last Hot Night," "Bringing on the Light" and "Come to Me."
Johnny looked just the same as I'd remembered, decked out in camo pants, a black t-shirt and that perfectly messy hair reminiscent of Keith Urban. Beyond Robby Takac, the rest of the band hid largely in the shadows. I'm sure the die hard fans were aware, but I never knew Takac stepped in as lead vocalist on certain tracks. He took back-to-back turns with "Now I Hear" and "Another Second Time Around." I hate to say it, but the crowd looked a bit subdued during Takac's turn at the microphone. Outside of that short stint, the audience was really into the Goo Goo Dolls' set. The thirty to forty-something crowd frequently chimed in as backup singers and always seemed to keep that white person sway going.
Both bands knew their fans came to hear the hits, and they weren't about to disappoint them. "Black Ballon" was met with joyous enthusiasm and black ballons suddenly materialized from thin air to volley around the crowd. They closed their set with a stirring "Better Days," and sealed the deal with the underrated "Iris." Its by far the best thing to come out of that City of Angels bomb (well Alanis' "Uninvited" was pretty hauntingly special as well). The boys dedicated "Name" to their fans who have seen them through their seventeen years as a band. Johnny botched the guitar at the end. Slicing the music mid-note, he said "I fucked that up. I never said I was a good guitar player." The crowd seemed to disagree, loving him even more for his imperfection.
After a brief intermission, Rob Thomas and the gents from Matchbox Twenty took the stage. They had a very interesting setup with Rubik's cube video boards hoisted above the stage. Throughout the evening, they would flash images of the band, lighting effects and just about any other cool visual candy they could conjure up.
Matchbox Twenty was definitely the more animated of the two groups. Guitarist Kyle Cook was just digging into the guitar solos like he was fishing for hits. Rhythm guitarist Paul Doucette seemed to suffer from restless leg syndrome as he bounced around the stage in his suit. I can't imagine the sweat he must have endured. Its not called Hotlanta for nothing.
They presented the concert as a bit of a homecoming for the group. They originally formed in Orlando, but their first two albums were recorded in the ATL. Thomas even mused about the early days playing Smith's Olde Bar. The crowd certainly embraced the musicians like one of their own. Rob Thomas even referred to them as "his beautiful peaches."
Matchbox Twenty released their latest effort North a year ago this month. The album got a huge chunk of time in the spotlight through opener "Parade," "Radio," "English Town," the quiet "I Will" and "Our Song."
While the new songs were well received, it was their hefty catalog of singles that solicited the loudest cheers. Barn burners like "3AM," "Unwell," "Real World" and "How Far We've Come" really left all sense behind. They were rocking like it was 1996.
Thomas talked about their first single, "Long Day," with fondness, remembering nursing a beer at nearby Highlander while putting pen to paper. When Thomas wasn't popping quarters into his memory bank, he was climbing the mountain of amps during "Radio," pulling back on the reigns to sneak in the quiet "I Will" and rewarding a lucky(?) fan with his sweaty bandana. While Cook and Doucette may steal the spotlight on occasion, there is no question Rob Thomas is the constant focal point on stage.
After playing for an hour and a half, Matchbox Twenty returned to the stage to bid the crowd farewell with "Back 2 Good" and "Push." The nostalgia drenched fans funneled their love back to the stage through applause.
I have a theory that bands who have achieved tremendous success at one stage of their career must have had a compelling live act to support that rise. Bands built solely in the studio seem to become rarer by the day. I can say this is certainly the case with the Goo Goo Dolls and Matchbox Twenty. Both groups energized the sold out Atlanta crowd from the front row to the furthest reaches of the lawn, giving everyone a taste of a time when responsibilities were few and your biggest question stemmed around whether you would eat or buy that new Goo Goo Dolls album.



> Goo Goo Dolls Atlanta Setlist
Last Hot Night
Naked
Slide
Here is Gone
Rebel Beat
Black Balloon
Now I Hear
Another Second Time Around
Let Love In
Come to Me
Name
Bringing on the Light
Give a Little Bit (Supertramp)
Better Days
Iris
> Matchbox Twenty Atlanta Setlist
Parade
Bent
Disease
She's So Mean
How Far We've Come
3 A.M.
Real World
If You're Gone
Our Song
Long Day
I Will
Unwell
Radio
English Town
Bright Lights
Encore:
Back 2 Good
Push