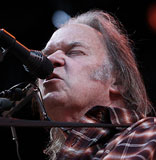 Even more so than vision, a musician's hearing is considered essential to his songwriting for obvious reasons. Constructing even a basic melody can be an obstacle with hearing loss, even if only affects one ear – as is the case with most of the musicians below. While it is incredibly rare for a successful musician to be entirely deaf, there are many afflicted with some form of hearing loss, inflicted naturally or by years of enduring loud music and re-takes. This has often forced them to alter their songwriting and performing methods, but judging by the quality of artists below it has only rarely impacted their ability to create a stunning song:
Ludwig van Beethoven
The most notable deaf musician, Beethoven began experiencing hearing loss in 1800, when he was 30. He was almost entirely deaf two years later, but that didn't stop the classical genius from writing some of his most well-regarded works. His Symphony No. 9, The Consecration of the House, and the highly progressive Late String Quartets remain some of his most noted works, despite being arranged when Beethoven was nearly deaf.
Brian Wilson
Often called the greatest American pop songwriter of all time, and for good reason, Beach Boys frontman Brian Wilson has been nearly deaf in his right ear since childhood. Theories range from Wilson being born with partial deafness to his demanding father abusing him. Regardless, Wilson's deafness was no obstacle; his left ear proved to be more adept than most people's two ears combined. This made Wilson forever favorable toward mono over stereo, but it's not like the best Beach Boys tracks need to be in stereo to show their pure and utter genius.
Pete Townshend
The Who, like many great rock bands of the '60s and '70s, endured plenty of shows that featured loud fans and instrumental feedback. The band's guitarist, Pete Townsend, suffers from partial deafness due to his years of exposure. Specifically, he has tinnitus – where one hears a constant ringing in their ears. Townsend later became involved in the initial funding for H.E.A.R., Hearing Education and Awareness for Rocker. Townsend struggled to create music in the late '00s due to increasing hearing loss, but lately has used cutting-edge production technology to combat his partial deafness and make songwriting/production easier.
Ayumi Hamasaki
Although most popular in her native Japan, pop star Ayumi Hamasaki is one of the best-selling artists in the world. She has sold over 53 million records in Japan alone, and maintains a cult international fan base. To much of her fans' dismay, Hamasaki announced in 2008 that she has complete deafness in her left ear. The problem dated back to 2000, but she assured fans it wouldn't stop her from continuing to perform. Since then, she has released six new albums, and remains as popular as ever. Even partial deafness isn't stopping the Japanese queen of pop.
Johnnie Ray
Although not known to most younger audiences, singer/songwriter and pianist Johnnie Ray was an early pop songwriter whose work became a stepping stone for rock 'n' roll artists of the late '50s and throughout the '60s. Perhaps noted for UK #1 Christmas hit "Just Walkin' in the Rain", it was unknown to most that Ray became deaf in his right ear at age 13. He was completely deaf in both ears by 1958, though hearing aids made his life a lot easier – even as he stopped making music entirely in 1961. Still, Ray appeared on television frequently and jovially throughout the '60s and '70s before his death in 1990 at the age of 63.
Nico
The sultry voice behind The Velvet Underground was deaf in one ear, which is no surprise to critics that railed her as "tone deaf". While this would be an insult to vocalists in most cases, for Nico it was part of her trademark. Her nonchalantly deadpan croon was a trademark of The Velvet Underground, and years later it's obvious fans would not prefer it any other way.
Eric Clapton
Much like Pete Townsend, Clapton was big in a time when sold-out arenas and loud guitar feedback was typical. And as they're both still active musically, it's little surprise that Clapton has endured hearing loss as a result of his career as well. Clapton told the press in 2006 that he suffers from mild tinnitus. "My hearing isn't ruined, but if I stop and listen I've got whistling all the time which I suppose is a mild tinnitus," he said. "If I'm playing any music at home these days it's probably classical, mainly because I haven't got much hearing left."
Sean Forbes
Hip-hop artist and producer Sean Forbes represents the new generation of deaf musicians, who are able to access special programs like R.I.T./N.T.I.D that cater to hard-of-hearing music lovers. In 2006, he co-founded D-PAN, a non-profit organization that helps make music accessible to the deaf. He shows that anyone who loves music, no matter how hard of hearing, can land a record deal with hard work and a genuine passion for music.
Neil Young
Neil Young has a "Heart of Gold", but he also has tinnitus – much like fellow rock stars Eric Clapton and Pete Townsend. Young has plenty of bittersweet ballads that don't rely as much on volume or ferocity, but playing harder-rocking gems like "Hey Hey, My My (Into The Black)" hundreds of times can certainly attribute to some hearing damage. Judging by how recently Young still puts material out, it doesn't seem to be affecting him too bad.
Ozzy Osbourne
Ozzy's hearing loss may be one of the most obvious on this list, as he is one of the innovators of the "hard-rock" label. Add to that a tireless work ethic and a generally reckless demeanor and you have the recipe for rock-driven hearing loss. "I am almost deaf and only understand something if someone is standing directly in front of me," Ozzy said. It certainly hasn't stopped him from the much-anticipated reunion with Black Sabbath this year, whose new album 13 will be released on June 11th.