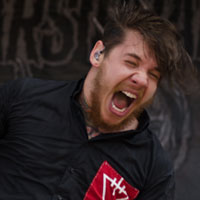 The Devil Wears Prada and As I Lay Dying will team up for an extensive North American tour early next year.
The two acts played together this summer on the Rockstar Mayhem tour and have dubbed their new upcoming trek the "Marathon Metalcore Tour." The new dates will kick off February 22, 2013 at the Majestic Ventura Theater Half House in Ventura Calif, and the bands will stay on the road until a two-night stand at the Black Sheep in Colorado Springs, Colo. closes the tour on April 3-4. In between those dates, the groups also will visit Las Vegas, Los Angeles, San Diego, Nashville, Toronto and Minneapolis, among others.
The two bands also will welcome three support acts at different stops throughout the tour. For Today will perform as support on almost every date of the tour, and The Color Morale will be the opening act from February 22 – March 7. The Chariot will then take over opening duties starting March 8, and will fill the role until the end of the tour.
As I Lay Dying will use the tour to continue to support their most recent album, Awakened, which was released in September of this year. The album is the sixth studio album by the band, and peaked at number 11 on the Billboard 200 albums chart. The set climbed to number three on the Billboard Independent albums chart, and number one on the Hard Rock albums chart.
Dead Throne is the most recent album by The Devil Wears Prada, and was released in September 2011. The album topped both the Billboard Christian and Independent albums chart, and peaked at number 10 on the Billboard 200 albums chart.
Many of the songs on the album were also included on Dead & Alive, the band's first live album that was released in June of this year.