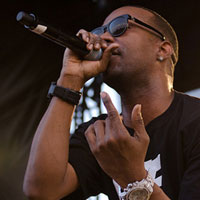 How can you tell it's 2013? Because a festival later this year will be headlined by holograms.
That's right, the biggest names on this year's Rock the Bells festival tour are hologram versions of the late Eazy-E and the late Ol' Dirty Bastard. The former will…umm…rejoin Bone Thugs N Harmony, while ODB will also be "reunited" with the Wu-Tang Clan for "original virtual performances."
There will be other artists there in the flesh, too, including Common, Kid Cudi, Earl Sweatshirt, Tyler, the Creator, Talib Kweli, Black Hippy and Rakim. The traveling two-day festival will begin in San Bernardino, California on September 7-8 and then travel to Mountain View, California the following weekend, September 14-15. The event will then show the other coast some love, stopping in Washington, D.C. September 28-29 and then Rutherford, New Jersey October 4-5.
This year marks the 10th anniversary of the festival, as well as the 20th anniversary of Wu-Tang Clan. Easy-E died in March 1995 at 31, while Ol' Dirty Bastard died in 2004. He was 35.
The hologram news comes after a projection of Tupac Shakur surprised audiences at the 2012 Coachella Festival, and various rumors have been circulating since that more holograms would be featured in performances. However, this is the first time holograms have actually been announced.
I don't know, I get the appeal of the hologram, but is it really anything more than a novelty? Tupac's "appearance" held a lot of weight because not only did no one expect it, most didn't know the technology was portable and versatile enough to travel to a music festival. But after the surprise element has worn off, you're just left with a picture and some pre-recorded music.
Is that enough to scratch the itch of nostalgia? For some I suppose it will be. But I think the bigger question is can it be anything more than that?