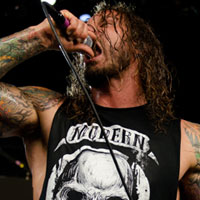 As I Lay Dying singer Tim Lambesis has been arrested for allegedly attempting to arrange for the murder of his estranged wife.
A press release from the San Diego Country Sheriff's Department was titled "Murder for Hire Plot Foiled," and went on to say that Lambesis was arrested on Tuesday afternoon, May 7 "without incident" in a retail business in Oceanside, Calif."
Wow.
It appears that Lambesis asked an undercover detective to kill his wife.
"The information came to us late last week" spokeswoman Jan Caldwell told Reuters. "We acted quickly on it. I believe that we averted a great tragedy." She later told ABCNews.com that the department "worked [the investigation] around the clock until the arrest was made."
The band has released six albums since forming in 2000, with the most recent being last year's Awakened. In 2008 the group was nominated for the Grammy Award for Best Metal Performance for the song "Nothing Left." The song is from the group's 2007 album An Ocean Between Us.
Lambesis had just returned from a short As I Lay Dying tour in Asia before the arrest was made. On a May 6 Instagram post he wrote that, "I'll Be home in about 15 hours." The group was scheduled to head back on the road later this month for a tour with Killswitch Engage. That trek was also scheduled to feature Miss May I and Affiance.
The band has yet to release any official statement about the event.
The singer is married to Meggan Lambesis, though she filed for dissolution of marriage in September of last year. The couple had adopted three children from Ethiopia together before their separation.
Fans of the group took to social media to express their collective shock at the arrest news.
"I hope to hell it is some sort of mistake," one fan posted to the group's Facebook page.