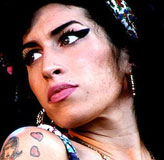 Amy Winehouse's former producer said the singer had written enough songs for a third album and had plans to form a jazz super group.
In an interview with the Associated Press, music producer Salaam Remi said the singer was waiting to record her third album until she was fully ready to record it, he said in the interview.
"She was taking her time with it," said Remi, "and at the end of the day all of her songs are somewhat autobiographical, so she had to live through something, then get out of it and then look back at it to be able to write about it."
She also wanted to form a jazz group with ?uestlove from the Roots on drums and saxophonist Soweto Kinch.
?uestlove played drums on the track "Half Time," which will appear Winehouse's posthumous album Lioness: Hidden Treasures. Winehouse died of alcohol poisoning on July 23. Lioness is scheduled to be released on December 6.
Remi collaborated with Mark Ronson, who had also worked previously with Winehouse, to comb through unreleased songs after the singer's death to make up the album. The album also will contain the last song the singer recorded, a duet with Tony Bennett called "Body & Soul." That song was previously released on Bennett's album Duets II, in September. Lioness also will contain 11 other tracks, one of which was written by Winehouse when she was 18-years-old.
A portion of the proceeds from Lioness will be donated to the Amy Winehouse Foundation, an organization set up by the singer's father, Mitch Winehouse. The foundation is dedicated to raising awareness and support for young people battling addiction and other issues.
The troubled singer's most recent album was Back to Black, which was released in October 2006 and won the Grammy Award for Album of the Year the following year.