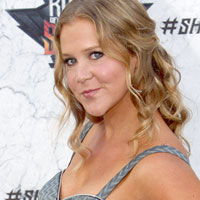 Amy Schumer is fast becoming the hardest working comedian of the 2010s, having announced the name of her collaborative film project with Judd Apatow, and confirmed the renewal of her Comedy Central sketch show, "Inside Amy Schumer." Now, she's planning a new nationwide theater tour.
'Inside Amy Schumer's Back Door Tour' begins on January 24th in New York City for two shows at the Best Buy Theater before hitting more than 30 cities from Boston to Houston and Denver to Atlanta.
A few weeks ago, Schumer requested the assistance of Twitter for help on naming the upcoming tour and there were some pretty popular contenders among the responses. Fellow comic Morgan Murphy suggested "Amy Schumer: I'm Coming." Other heavy contenders included "Amy Schumer's Burning Sensation Tour", "CliTOURus", and "COOZE-A-PALOOZA."
Amy Schumer is perhaps best known for her show "Inside Amy Schumer" which launched on April 30th, 2013 and ranked as a top three program on cable among males 18-34 and 18-24 in its Tuesday 10:30pm-11pm timeslot during its first season. The second season of the show, in the meantime, is set to debut on April 1st, 2014 on Comedy Central.
The series was created by Schumer and Daniel Powell, who produces along with head writer Jessi Klein, and offers an intimate look at the internal life of Amy Schumer, who, through numerous storytelling devices, including scripted vignettes, stand-up comedy, and man-on-the-street interviews, explores topics around sex, relationships, and life more generally.
Schumer also recently announced that her Apatow Productions-handled film script was set to be directed by Apatow (the great and powerful, himself) and is due to be the first film he'll take directing duties for, yet not touch those writing credits. Called Train Wreck, the film centers on Schumer's "basket case" who is struggling to sort her life out. Apatow, Schumer, and producer Barry Mendel are currently in the process of casting the roles of the main character's boyfriend, best friend/co-worker, and parent.