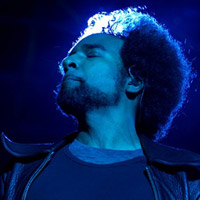 After all these years, Alice in Chains can still make some killer tunes. When they released Black Gives Way to Blue in 2009, their first new album in nearly 14 years, it was met with critical acclaim. In the wake of many flawed alternative and grunge reunions, Alice in Chains had defied the norm by immediately shaking off any rust. The newly polished alt-rock favorites had the potential for greatness yet again — both of the nostalgic variety with perpetual members like Jerry Cantrell, and with the arrival of a new cast. Alice in Chains' new album, The Devil Put Dinosaurs Here, marks the second with William DuVall on lead vocals, his deeply entrenched murmur of a voice meshing ably with Alice in Chains' explosive alternative-metal. Cantrell's guitars and occasional vocals still make Alice in Chains sound precisely like, well, Alice in Chains, but this is an album that works on the strength of old ideas as well as new ones.
"Voices" is the first track on The Devil Put Dinosaurs Here that gravitates from the norm; it features a more acoustic-oriented arrangement and pop-rock formula than the preceding head-bangers. It's a sound that brought Alice in Chains acclaim throughout the '90s, and it re-appears here with "Voices" and "Scalpel", which is almost sugary sweet for the group's standards – but in a good way. On "Voices" DuVall and Cantrell harmonize to help lead a relatively straightforward yet wholesomely accessible effort. "Everybody listen, voices in my head / Everybody listen, 'cause you'll see what mine says," they sing during a safe yet infectious chorus. The easy-rhyme scheme fits well, as the track almost seems like a breather between "Stone" and the ambitious sprawl of a self-titled track.
Shortly after "The Devil Put Dinosaurs Here" opens with an exotic guitar progression that applies ascending reverb sparingly, the vocals emerge in a melodic haze that is again quite different from Alice in Chains' usual material. "The Devil Put Dinosaurs Here" is enjoyably submerged in an ominous vibe, the menacing force coming full circle when blasts of guitar distortion lead into the chorus, where soaring and anthemic vocals take over. Plenty of memorable moments occur during this track's six minutes, a stunning Cantrell guitar solo being perhaps the most unforgettable. Drummer Sean Kinney also features phenomenally throughout, his drumming a continuous backbone to the group's often intense meshing of multi-layered vocals and guitar progressions.
One of Alice in Chains' more abrupt efforts, the group takes a route familiar to longtime fans of the group. "Pretty Done" is a slick maneuver that rides dominantly on rigid waves of guitar. "Slap me 'round for fun," DuVall murmurs on "Pretty Done", recalling vintage grunge in his nonchalant and raspy vocal delivery. Eddie Vedder and Kurt Cobain would nod their heads in approval. Yet again, Cantrell steals the show just after the mid-point with a brief yet melodically fervent guitar solo. He has several of these moments throughout the album, and who's to complain? Cantrell continues to cement his status as one of the greatest guitarists in alternative history. A more technical demonstration can be found in the fleet metal-infused gloom of "Phantom Limb", a halted form of energy that largely succeeds. After nearly 27 years together, Alice in Chains know their strengths – and utilizing Jerry Cantrell over consistently empowering vocal deliveries, no matter who the singer, is one of them. Fortunately for Alice in Chains, DuVall proves more than capable.
The faults on The Devil Put Dinosaurs Here have nothing to do with performance. A handful of tracks are just on the tedious side. "Breath on a Window" features a very forced chorus that sounds as if it were written separately, the group sticking to an overly predictable structure both here and on "Lab Monkey", which rides too long on a sliding guitar lead. The wah-wah effects toward the conclusion provide some flair, but enough. While the middle of The Devil Put Dinosaurs Here does tend to drag, the bookends of the album are as fine as anyone could expect from Alice in Chains' second album as a reformed group. As they continue to grow older, it's doubtful that Alice in Chains will reclaim their peak standing. Regardless, there aren't many alternative heroes still churning out some tunes as good as "Voices", "Phantom Limb", and the album's self-titled track.