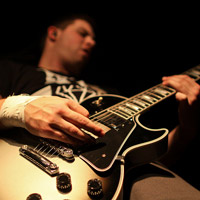 A Day to Remember will head out on the road for most of this spring, and Of Mice and Men will be along for the ride.
The new trek will kick off in Atlanta at the Tabernacle on March 20 and run through an appearance at the Fillmore in Miami on May 4. The bands also will visit Philadelphia, New York, Detroit, St. Louis, Milwaukee, Chicago, Minneapolis, Denver, Salt Lake City, Las Vegas, Los Angeles, Oklahoma City and Nashville, among many other cities.
The opening spot will be filled by Chunk No Captain Chunk for the first part of the tour (March 20-April 6) and Issues for the remainder.
"We're finally going back on the road and you know what that means," said A Day to Remember lead singer Jeremy McKinnon. "We're finally ready to show you all what we have been doing for the past year. We're excited to be back. It's been way too long. Come out. We're gonna have a good time. Bring your friends."
That quote likely means that we should see a new album coming soon from the group, though no official date has been announced. The band released a single late last year, "Violence (Enough is Enough)," that is expected to be on the new release. The band said last summer that the new album may be called Common Courtesy but have yet to confirm the title.
A Day to Remember had some success with the song "All I Want" from their most recent record, 2010's What Separates Me from You. The song steers away from the band's normal metalcore sound into power pop territory, but McKinnon says the band will stick to its roots on the new album.
"A lot of bands, when they get popular, they tend to drop the whole heavier portion of their music," he said. "It's almost like the people who like that music are just waiting to pounce on you the second you do it. We're gonna have more heavier songs than on the past two records together."