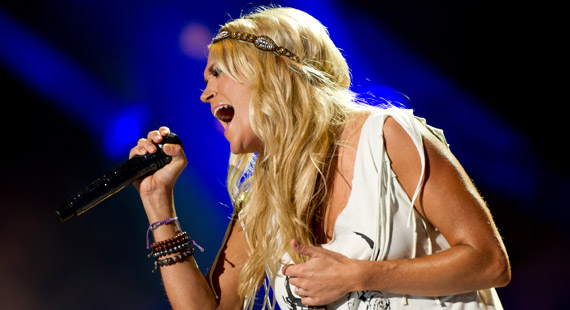 Mark Runyon | ConcertTour.org
Carrie Underwood's 'Play On' Debuts at Number One on Album Charts
"Play On," the third album for Carrie Underwood, the former champion of American Idol, this week will make its debut at number one on the chart for US albums. It's the spot that two years ago her sophomore album occupied.
First week sales for "Play On" were 318,000 copies. That fell short of "Carnival Ride," Underwood's previous album, which during the first week after its release in 2007 sold 527,000 copies. However she still sold enough copies for her new set to be No. 1 on Billboard 200′s latest chart. According to retail data from Nielsen SoundScan reported by Billboard the accomplishment also is the largest total for one week sales in 2009 for any female recording artist as well as second best week for sales in the country genre in 2009.
With Underwood taking the top spot, "This Is It" by Michael Jackson moves down from No. 1 into the No. 2 slot with 196,000 copies sold. "My Christmas" by Andrea Bocelli debuted at No. 3 with 149,000 copies sold; the soundtrack from ""Glee" came in at No. 4 selling 113,000 copies; the hits compilation "Now 32" was No. 5 selling 102,000 copies.
The Top 10 was rounded out with "Fearless" by Taylor Swift at No. 6 selling 70,000 copies: "Raditutde" by Weezer at No. 7 selling 66,000 copies; "Crazy Love" by Michael Buble" at No. 8 selling 59,000 copies: "If On a Winter's Night," by Sting at No. 9 jwas ust under the sales figures for Buble; and the soundtrack for "New Moon" at No. 10 selling 52,000 copies.