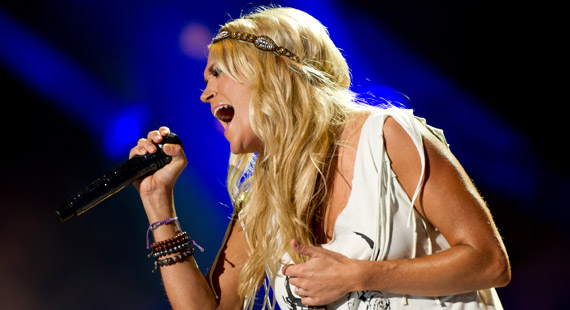 Mark Runyon | ConcertTour.org
Carrie Underwood to Star in NBC's 'The Sound of Music' Live Musical
Carrie Underwood has been tapped to star in a live televised performance of "The Sound of Music" next year.
The five-time Grammy Award-winner will perform the role of Maria von Trapp in the musical, which is set to air late next year on NBC. The role of von Trapp is a rebellious would-be nun who married Georg von Trapp and fled from the Nazis with him and his children. Julie Andrews made the role famous in the 1965 Academy Award-winning film.
The Rodgers and Hammerstein musical originally was presented on Broadway in 1959, and is based on the true story of the von Trapp family. Two German films about the story also served as the basis for the musical: 1956′s "The Trapp Family" and its sequel, 1958′s "The Trapp Family in America."
"Speaking for everyone at NBC, we couldn't be happier to have the gifted Carrie Underwood take up the mantle of the great Maria von Trapp," said chairman of NBC entertainment Robert Greenblatt in a statement. "She was an iconic woman who will now be played by an iconic artist."
The musical contains many now classic songs including "My Favorite Things," "Do-Re-Mi," "Edelweiss" and "Climb Ev'ry Mountain."
All productions were based on Maria von Trapp's 1949 memoir, "The Story of the Trapp Family Singers." That book recounts the family's years performing as well as their escape from Nazi-occupied Austria and then their subsequent immigration to the United States.
Underwood has sold more than 15 million albums since bursting onto the nationwide scene when she was named "American Idol" in 2005. She made her film debut in 2011′s "Soul Surfer."
"We're thrilled to be presenting the Broadway version of 'The Sound of Music' live," said producers Craig Zadan and Neil Meron in a statement. "And having Carrie Underwood as the star brings it to a new generation who will fall in love with it for the first time as many millions of people already have."