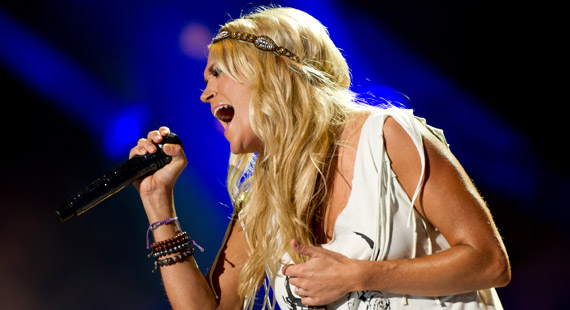 Mark Runyon | ConcertTour.org
Carrie Underwood to Guest Star on 'How I Met Your Mother' in March
Going from Idol over to Mother? Well maybe not. However Carrie Underwood, former winner of American Idol and now one of country music's singing sensations, will probably be appearing in an episode of "How I Met Your Mother," the CBS sitcom. Should we start making comparisons with the appearance of Britney Spears? Underwood will be playing in the role of a pharmaceutical rep named Tiffany." According to the show's creators Barney refers to them as "the Official New Profession of Hot Chicks."
Underwood will be playing a stunning beauty attracting Ted's attention. She isn't likely to be a candidate for playing the mother's role. Tons of speculations abound. Many are thinking it could be Rachel Bilson. She will be appearing on the 100th episode this Monday. There have been promises that she will be very important in the show's story line. However, they don't appear to be ready to show their cards just yet and have Bilson play the mother.
There are other future guest stars slated to appear on the show that are not likely to play the mother either. They include Amanda Peet, Jim Nantz, the broadcaster from CBS, and Nick Swisher of the New York Yankees. It's very doubtful that any of them will be playing the mother, although this is all in the future. Anything is possible.
Since this will be Underwood's first acting in a major role, the big question will be to see how she does. In December she was fun and cute during her variety holiday special. However this role will require more acting chops from her. If she is able to pull it off, most likely it will open an entire potentially new career path up for her. If in case, you know, that whole country music, multi platinum and award winning gig dries up for her.
Then again she could end up doing both. She could end up becoming the new Dolly Parton, although she would have to add a few things into her wardrobe.