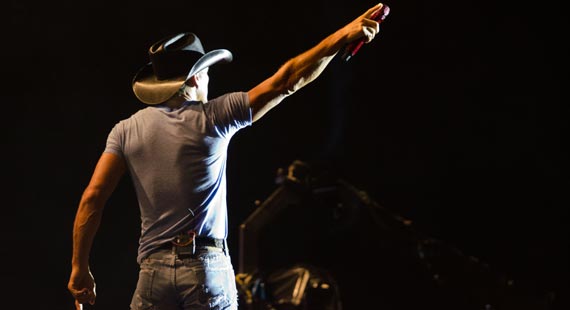 Mark Runyon | ConcertTour.org
Carrie Underwood, Tim McGraw Featured at London's Country to Country Festival
Carrie Underwood and Tim McGraw will be among the country stars set to kick off the first ever C2C: Country to Country Music Festival in London next year.
The festival will be held at the famed O2 arena in the capital city on March 16-17, 2013. Other notable names that will appear at the festival include Little Big Town, Darius Rucker, Vince Gill, LeAnn Rimes, Brantley Gilbert and Sugarland's Kristian Bush. The festival is expected to draw around 60,000 country music fans, and music will be performed on multiple stages in the arena. More acts will be named to the lineup at a later date.
Carrie Underwood sold out London's famed Royal Albert Hall this summer, and spoke in a statement on the official Facebook page for the festival about her excitement for the event.
"I love the idea of a country music festival in London, and I'm so excited that so many amazing artists are coming together for Country to Country," she said. "I feel honored to help represent country music, and I know it's going to be a really fun weekend!"
Tim McGraw also said he was excited about the event, particularly that it will allow him to play some new songs.
"Our trip to the UK and playing the O2 is one of the things I'm looking forward to most for the next year," he said. "I love being able to take my music to other countries, and I think there are a lot of new songs on Two Lanes of Freedom that fans over there will really dig. It's going to be a blast!"
Two Lanes of Freedom is McGraw's upcoming album, and is expected to be released next year.
In other Carrie Underwood news, she was nominated earlier today for two Grammy Awards: Best Country Solo Performance and Best Country Song.