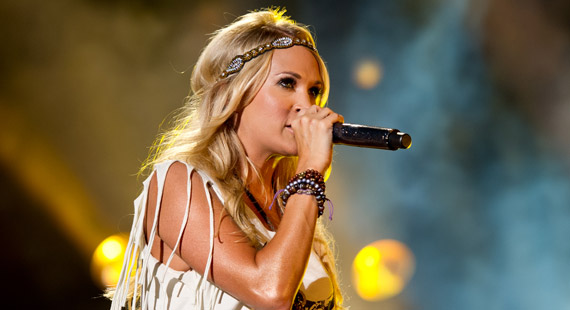 Mark Runyon | ConcertTour.org
Carrie Underwood Tackles First Headlining Tour
While getting ready to go out with Keith Urban on a co-headlining tour, Carrie Underwood is also announcing dates for a North American outing of her own.
The first six shows for her "Carnival Ride Tour" intertwine with her co-billing with Urban scheduled to kick off in Uncasville, CT on January 31. The headlining gigs for Underwood start in Wilkes-Barre, PA on February 18. Josh Turner, country singer and Grammy nominee, will be along as well. According to an Underwood press release, it is expected that the tour will grow to over 30 dates. On Saturday January 12 tickets for the first shows will go on sale.
The country and crossover singer says that she is excited at the prospect of doing a full performance of her music.
Underwood in a statement said, I have been very luck to learn from lots of other great artists as I have toured with them. They have really inspired me in many, many ways. They helped me to be able to reach this point of having my first set of real headline shows. Finally I feel I am ready.
Underwood's superstar status for live performances seems to be catching up to her recording world superstar status. She made history recently by becoming the best selling female singer across all musical genres for the second year in a row.
"Carnival Ride," her sophomore double platinum selling album, has spawned "So Small," her multi-week No. 1 hit song. It's the fifth country chart topper for Underwood in a row. Her first four came with "Some Hearts," the multi platinum debut for the singer. "All American Girls," Underwood's latest single, is making its way currently up country music's charts.
Underwood has won two Grammy awards and is the current Female Vocalist of the Year with both the Country Music Association and Academy of Country Music.