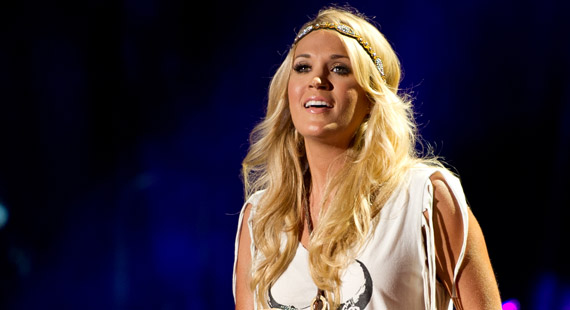 Mark Runyon | ConcertTour.org
Carrie Underwood, Steven Tyler to Film Crossroads Special
After making a splash by performing with each other at last year's Academy of Country Music Awards in Las Vegas, Steven Tyler and Carrie Underwood have decided to do a more lengthy performance together for "CMT Crossroads."
The current "American Idol" judge and the former "American Idol" will sing in "CMT Crossroads: Steven Tyler & Carrie Underwood From the Pepsi Super Bowl Fan Jam." The performance, which will be held in Indianapolis at the Indiana State Fairgrounds, will air live on February 4, the night before Super Bowl XLVI takes place down the road at Lucas Oil Stadium, which is also in Indianapolis.
At the Academy of Country Music Awards, the duo sang Underwood's hit "Undo It," followed by a rendition of "Walk this Way," from Tyler's band Aerosmith. Underwood has won the prestigious Entertainer of the Year Award from the show two times in the past, in 2008 and 2009. After winning the fourth season of American Idol in 2005, she has since gone on to sell over 14 million albums around the world.
Tyler was a founding member of Aerosmith when the band formed in 1970, and continues to perform with the band while performing his duties as an "American Idol" judge. The band is expected to release a new album later this year.
"American Idol" began its 10th season last week on January 18, with the second half of the season debut on January 19. Tyler became a judge during the 10th season, along with Jennifer Lopez. That was the season that original judge Simon Cowell left, leaving Randy Jackson as the only remaining judge from the original season of "American Idol," since Paula Abdul had left before Cowell. This year's season premiere has already been the talk of many media reports because it was the lowest rated debut since the first season of reality singing competition.