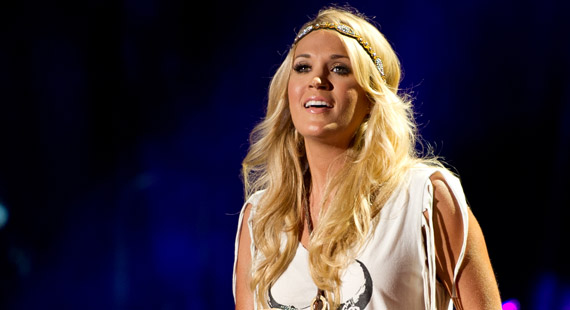 Mark Runyon | ConcertTour.org
Carrie Underwood Pushs Blown Away Tour into 2013
Carrie Underwood will keep her "Blown Away" tour on the road well into 2013 as she announces 40 new concert dates for the coming year.
The first new date on the extensive North American tour will be February 13 at the Colorado Springs World Arena in Colorado Springs, Colorado, and the tour is scheduled to continue through a May 18 date at Rexall Place in Edmonton, Alberta, Canada. In between, the singer will visit cities including Boise, Las Vegas, Ontario, Houston, Milwaukee, Toledo, Omaha, Sioux City and Winnipeg, among many others.
Underwood's next concert date is November 3, and the current leg of the "Blown Away" tour will continue through December 22, when the singer performs at the BankAtlantic Center in Sunrise, Florida.
In other Underwood news, she will co-host the 46th Annual CMA Awards later this week on Thursday, November 1. This will be the fifth year that she has hosted the show along with Brad Paisley. The show will be broadcast from the Bridgestone Arena in Nashville, and Underwood is nominated for female vocalist of the year.
Her current tour is named after Carrie Underwood's fourth album Blown Away, which was released in May of this year. The album topped the Billboard 200 albums chart for two weeks in a row.
Opening for the new dates is 21-year-old singer Hunter Hayes, who is also currently on the "Blown Away" tour. He recently talked to TheBoot.com about his experience on the tour.
"My fans are coming out in large numbers and bringing a lot of energy with them," he said. "It's a blast. The coolest thing about it is we don't have to stop any time soon. We have another couple months of this, and I'm really stoked."
Most nights of the tour, Hayes gets invited onstage to duet "Leave Love Alone" with Underwood. The song is from her new album.