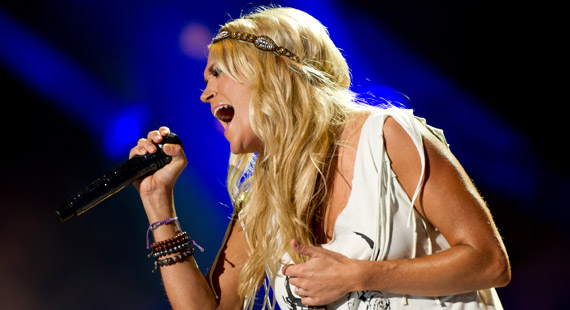 Mark Runyon | ConcertTour.org
Carrie Underwood Lines Up Arena Concert Tour Through Year's End
To celebrate the release of her fourth studio album, Blown Away, Carrie Underwood has lined up a fall arena tour that will keep her on the road through the end of the year.
The extensive tour will kick off September 14 at the Verizon Wireless Arena in Manchester, N.H., and is scheduled to continue through December 22 when the country star plays the BankAtlantic Center in Sunrise, Fla. In between, she will visit cities all around North America, including Nashville, Vancouver, Seattle, Dallas, Atlantic City, St. Louis, and Chicago. Singer and guitarist Hunter Hayes will provide support for the tour.
"I can't wait to get back on the road and perform new music from my new album for my fans," Underwood said in a statement. "We have a lot of exciting things planned!"
Blown Away was released yesterday, and Underwood recently spoke to the Associated Press about how she wrote the album.
"When you go in to write, you have to be willing to sound stupid," she said. "Before you have a chance to think about something, you blurt it out and it doesn't make any sense, and everybody gets a good laugh out of it. You can't be afraid to sound completely dumb when you go to write."
Some of the songs on the new album were co-written with Josh Kear, a well known country songwriter who wrote the Underwood hit "Before He Cheats."
The single "Good Girl" preceded the album, and was released on February 24. The song reached number six on the Billboard Country Songs chart, and number 18 on the Billboard Hot 100 singles chart.
Underwood was recently indirectly involved in some controversial comments by fellow country singer Eric Church, when he lambasted artists that first became known on reality television shows. Underwood first became known when she won the fourth season of "American Idol." Church later mentioned Underwood by name when he apologized for his comments.
"I have a lot of respect for what artists like Carrie Underwood, Kelly Clarkson, and my friend Miranda Lambert have gone on to accomplish… I apologize to anybody I offended in trying to shed light on the issue."