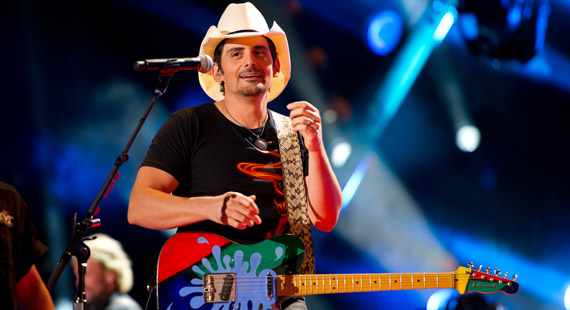 Mark Runyon | ConcertTour.org
Carrie Underwood, Brad Paisley Once Again Step Up to Host CMA Awards
Brad Paisley and Carrie Underwood will co-host the annual CMA Awards for the fifth year in a row, it was announced recently.
The pair that are now veterans of the legendary awards show will appear together when the 46th incarnation of the ceremony is held on November 1. The event will be televised live on ABC at 7:00 p.m. that day.
"I love working with Carrie," Paisley said before the pair hosted the 2011 CMA Awards. "She's a class act and a complete balance to my non-class act. I'll try my best not to mess it up."
Underwood tweeted a little dig about Paisley announcing that they had met up recently.
"Hanging out with @bradpaisley today," she tweeted. "Just caught him in my makeup chair. #suchadiva"
CMA Chief Executive Officer Steve Moore said the choice to bring the pair back was due to their great chemistry as well as their comedic interplay.
"We couldn't ask for better hosts than Carrie and Brad," Moore said last year. "They have the unique qualities of humor, talent, credibility, and natural rapport that makes them a hit with the fans and the industry in the audience. The CMA Awards are in great hands with Brad and Carrie at the podium."
Though the pair have had quite the string of hosting duties for the awards ceremonies, they still have a long way to go before breaking any hosting records. Vince Gill hosted 12 consecutive CMA Awards from 1992 to 2003.
In the music realm of Paisley and Underwood's relationship, they had a number one country single last year with the duet "Remind Me." The song went to number 17 on the Billboard Hot 100 overall singles chart. Underwood also was featured on the songs "Oh Love," which was included on Paisley's fifth studio album, 5th Gear.