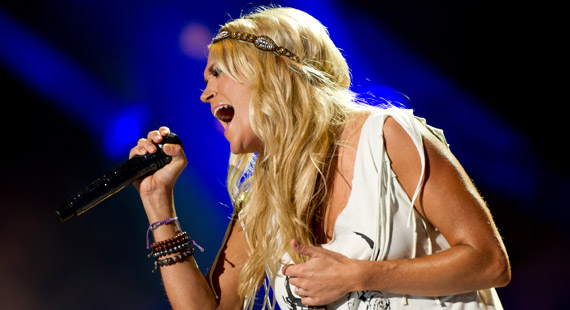 Mark Runyon | ConcertTour.org
'Carnival Ride' Release October 23 & Underwood TV Appearances
Next week Carrie Underwood will hit the road to go on a media blitz cross country in support of "Carnival Ride," her new album that is set to be released on October 23.
The former American Idol winner will be interviewed on the GAC show "Country Across America" on October 18. On October 20 she will perform "So Small," her new single, on the GAC show "Opry Live." This appearance will be part of the 82nd Birthday Bash Celebration for the Grand Ole Opry. On October 20 Underwood will also appear on the show "CMT Insider" to do an interview. On October 23 she will make an appearance on the show "Good Morning America," as well as "GAC Nights." On October 24 Underwood will be on "Live with Regis and Kelly" and on October 26 she will be on "CBS Early Show."
The country singer will then head over to the West Coast to make an appearance on October 29 on "The Tonight Show with Jay Leno." She will perform on November 5 on "The Ellen Show." Later that week Underwood, with her three nominations, will be at the "41st Annual CMA Awards." On November 13 she will appear on the "David Letterman Show."
If you still need to see more of Underwood after that, no need to worry. Underwood will have more televisions appearances in the months of November and December scheduled. The details will be announced soon.